(above: beach stone placemats, $ 19.95, Wrapables)

"Rock on" may be a uniquely American call to party, but when it comes to decorating your
table, rocks, stones and pebbles can have an altogether different effect on your mood. When
incorporated into your tablesetting, stones can create a soothing effect to balance the
hectic pace of modern life.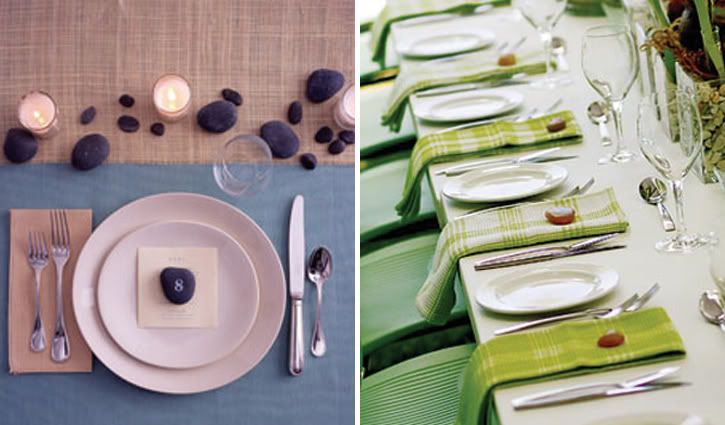 (l to r: Martha Steward wedding, InStyle wedding)

For a centerpiece, stones teamed with candles, fruit, and flowers create a new visual
excitement on the dining table. Here's a beautiful way to weight menus or napkins down
at an outdoor wedding -- and identify tables at the same time. For each plate, you'll need
a smooth, unpolished stone, add the table number with a rubber stamp and ink pad; if you
make a mistake, just wipe clean. Do the stamping a day or two before so the ink can dry.
Scatter more stones down the center of the table to follow through on the theme.



(above: beach stone coasters, set of 4, $9.95, Wrapables)

Pebbles are the latest hot trend in stone-theme decor and they're showing up in everything
from placemats to coasters. You don't have to build a Japanese rock garden in your back
yard, however, to take advantage of the pebble trend. Decorator items made from and
inspired by pebbles can be found at any home store. Add a whimsical, light-hearted
element to your table with the underlying peaceful persona of stone.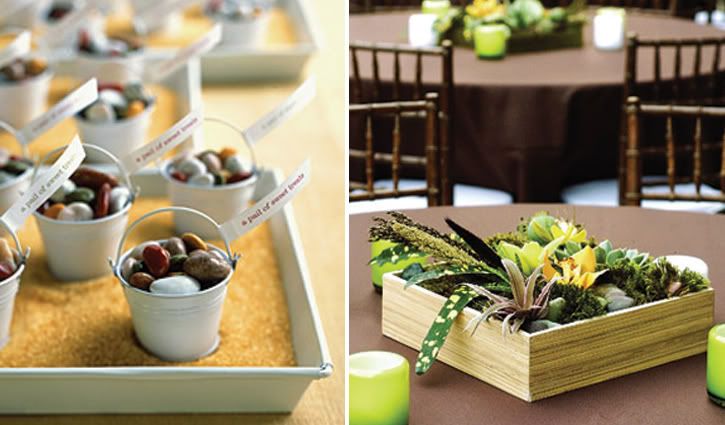 (l to r: candy rocks, Martha Stewart; rock centerpiece, The Knot)