They're beautiful, feel great in your hand, cut effortlessly and will definitely be on my wedding registry. Table knives by the French firm Laguiole (pronounced "layole") have a handle on the hottest shades, horn or wood. The blades are as elegantly crafted as they are beautiful to behold.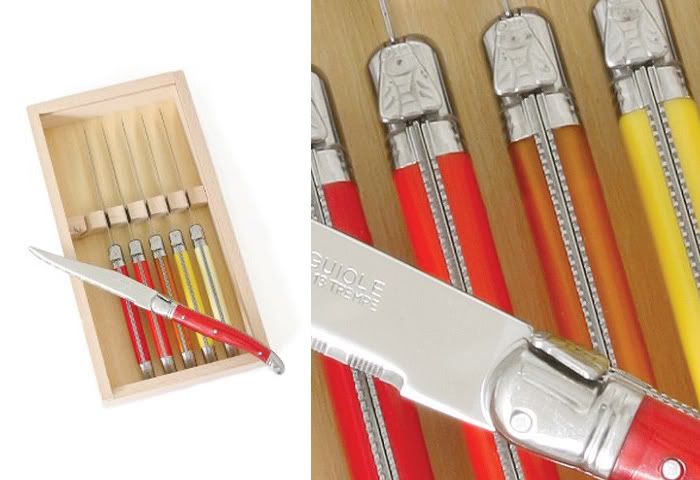 (above: Laguiole steak knife set, $98.00, Anthropologie)

Laguiole is one of the oldest and best respected names in French cutlery. For over two centuries, craftsmen of Laguiole have been making distinctive knives known to the world as Laguiole Knives. Laguiole knives are pocket knives often with a small corkscrew. The style has evolved and led to a range of some of the most handsome cutlery to be found anywhere. There are Laguiole table knives, Laguiole carving sets and, of course, the Laguiole corkscrew, also known as the sommelier knife.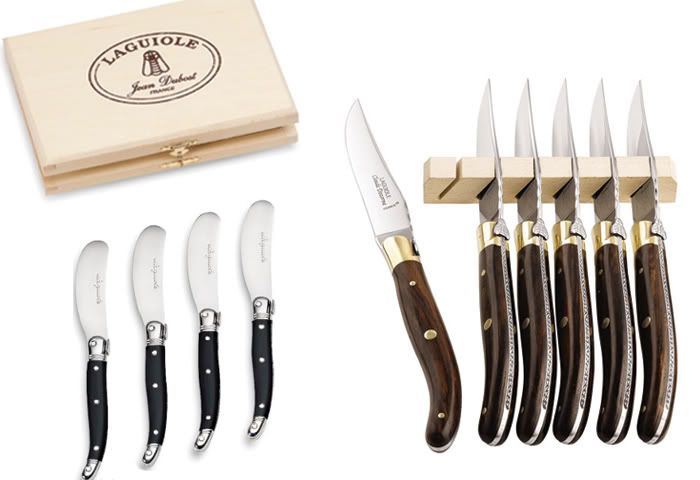 (l to r: Laguiole spreaders, set of 4, $39.00, Williams-Sonoma; Laguiole steak knives, $350.00 Dean and Deluca)

These days, they've become a symbol of uber-style among those who are attuned to such things, due perhaps to the neat bas-relief bee that sits at the point where blade and haft meet and an appreciation of the nifty mechanism which forces the blade to collapse. A Laguiole knife is presented to each president of the French Republic. Sonia Rykiel is said to own one. And Philippe Starke, who seems unable to leave the slightest thing untouched, has refined the design for the 21st century.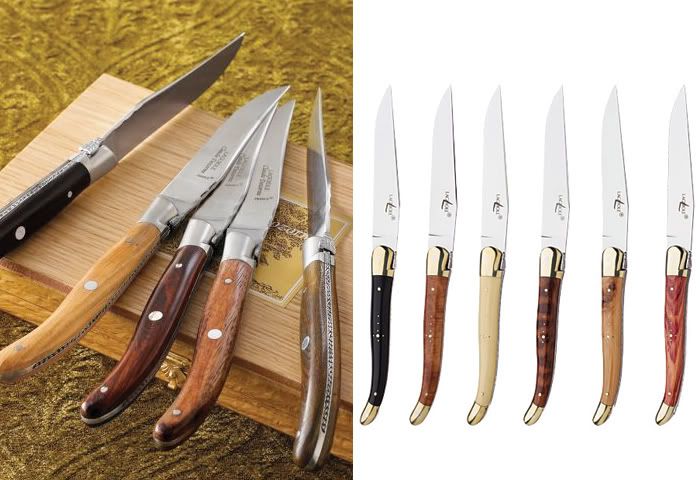 (l to r: Laguiole Steak Knives $330.00, Horchow; Laguiole exotic wood handles, set of 6 $570.00, Moss).

Ooohh so many choices, what's a girl to do?

(image at top: Laguiole Wilmotte, set of 6, $670.00, Moss)