You don't wear fur, even if you could afford one and you would never buy an alligator-skin handbag. I'm starting to think that maybe feathers are the ideal alternative for glamour girls with a conscience? It's tempting to believe so. Designers have staged something of a revival in feather- wearing this year, why look at the feather braclet by Marc Jacobs for Louis Vitton. I was so inspired by the braclet that I created yet another board.

"The feathers are flying" and they're landing on the table. Add some feather luster to your table with these tableware items.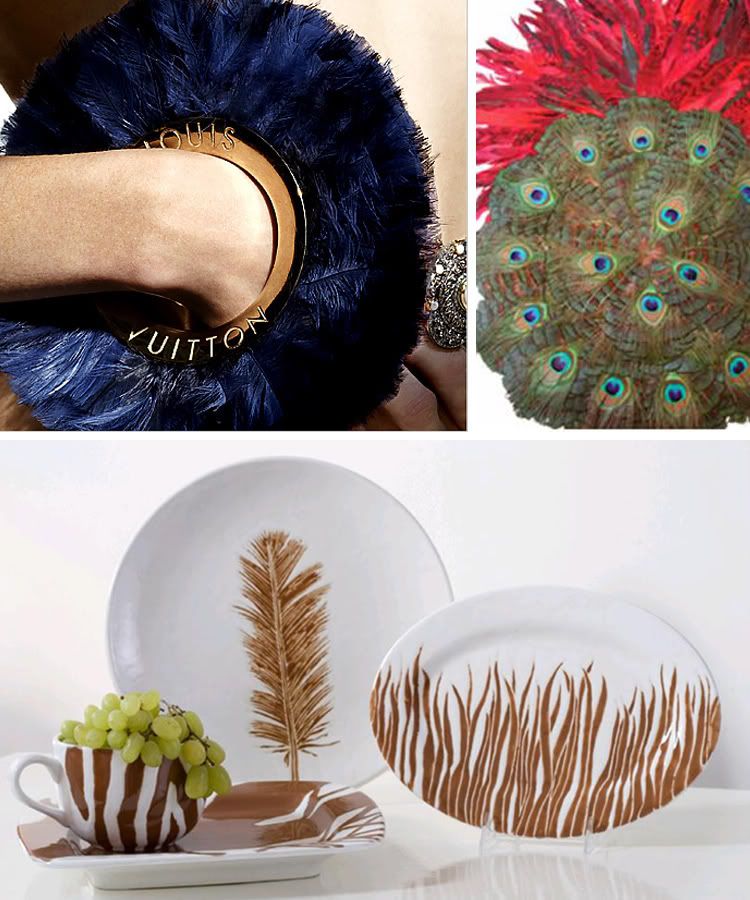 (above: Louis Vuitton feather bracelet, $2,310 at Louis Vuitton, Feather placemats, Chateau X by Jane Krolik; Place setting by Jessica Howard ceramics).

Feathers make wonderful accents for fall arrangements. They are perfect accompaniments for foliage, flowers, fruits, vegetables, cones, and any dried material. Feathers are available at many flower shops and craft stores in all shapes, sizes, and colors. Many are dyed to enhance the hues and to give a wider selection of colors for varied decorating backgrounds. They may be added to a simple pot of ivy, or they can become the focal point in mantel urns. Add some to your fall table decorations or fill an interesting container with a group on a side table.




(above: Large Peacock eye platter, $45.00, Bongenre).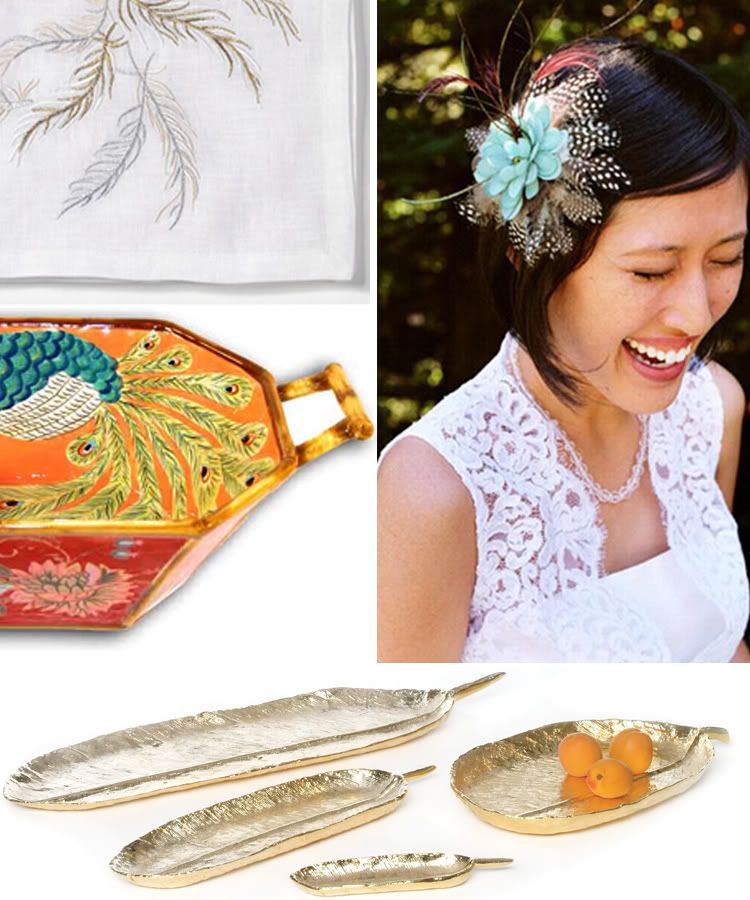 (above: feather napkin,$120.00, Vivre; Artensian salad bowl,$55.00, Tracy Porter; Feather hair clip, K. Autumn; Gold Athena Tray, $79.99, Lunares Home; invitations, boutonnières , bouquets, all images from Michelle Rago).

Even a novice can add a few feathers and achieve a little pizzazz. Working with beautiful bird feathers is certainly an easy way to add a special look with truly a minor amount of effort and time. So go ahead, strut your stuff like a peacock!

For even more "Feather Luster" fly right over to Perfect Bound, prepare yourself for take-off, her post will blow you away!