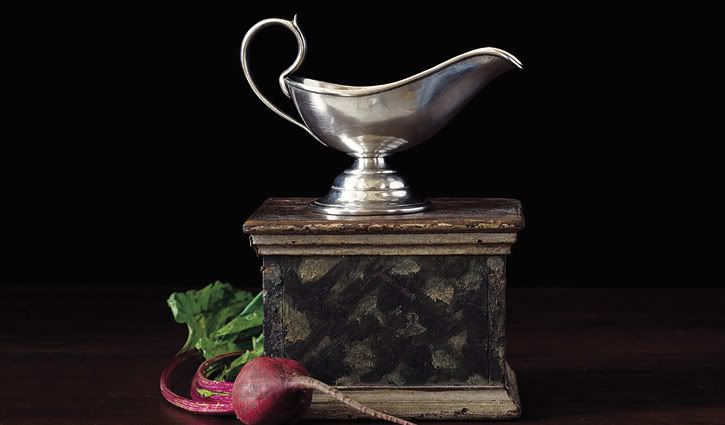 Have you ever thought about the design of a gravy boat - - - the spout, the ladle,
the plate? Do you pour? Do you ladle? And what's the plate for? Well here's
a quick lesson: pour unless there's a reason not to, such as the gravy is very
thick or if it separates quick and always use a plate as it keeps the
drippings off the tablecloth.



(l to r: Fiesta gravy boat, $21.60, Macy's; Gravy boat, $24.00, Pottery Barn)

Millions of gravy boats will bob and dip around the Thanksgiving table this
year as they are passed from guest to guest.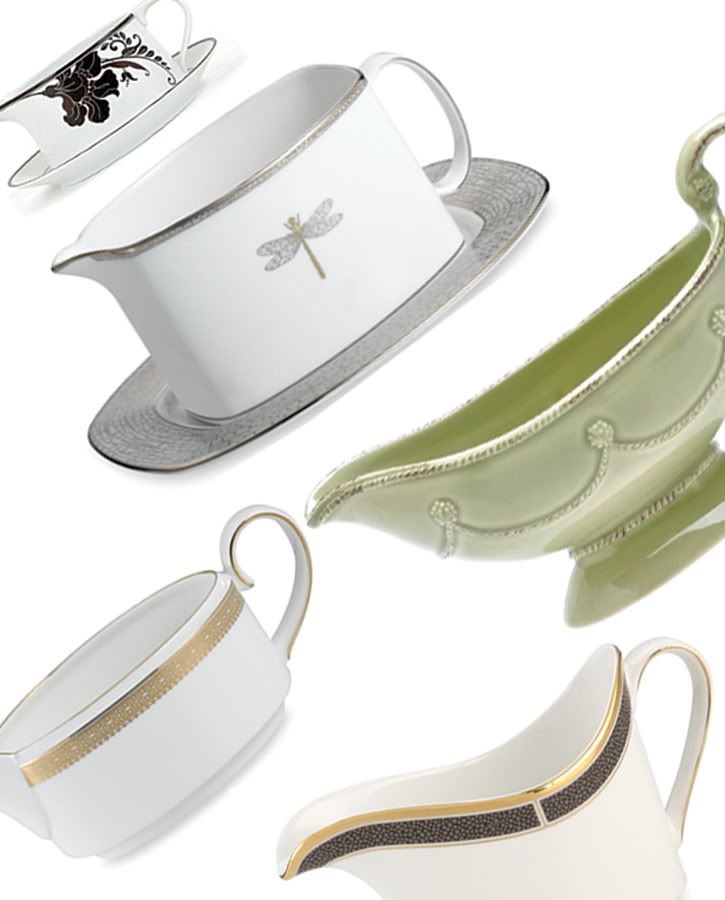 (top to bottom: Mikasa cocoa blossom gravy boat with stand, $80.00, Dillards;
Kate Spade June Lane Platinum, $219.00, Bed, Bath and Beyond; Vera Wang
gold gravy boat, $169.00; Sauce boat, $59.00, Juliska; Wedgwood Shagreen
cocoa gravy, $139.00)

This fine-china fleet is an essential part of the holiday tradition. Gravy boats
survive as serving pieces only because they are used once or twice a year
around the holidays and for special occasions.



(row 1: Martha Stewart gravy boat, $7.99, Macy's; Villeroy and Boch Audun Ferme
gravy boat, $58.50. row 2: Cellini gravy boat, $68.60, Bloomingdales; Spode gravy
boat spode, $182.00, Horchow)

Gravy boats are treated like the ugly stepsisters of the china set. For many,
it's not even something you would think about registering for. As you can see,
gravy boats are anything but ugly. I will be registering for Match's
Convivio dinnerware and naturally my favorite gravy boat is the one shown
in the top picture. Don't worry if you can't find one to match your current
china. Mix and Match. Sleek gravy boats are available to fit any table
decor.



(l to r: Eva Ziesel Classic Century sauce boat, $47.95, Crate and Barrel;
Sophie Conran pouring bowl, Portmeirion)

This holiday season, tableware will set sails! Don't miss the boat.