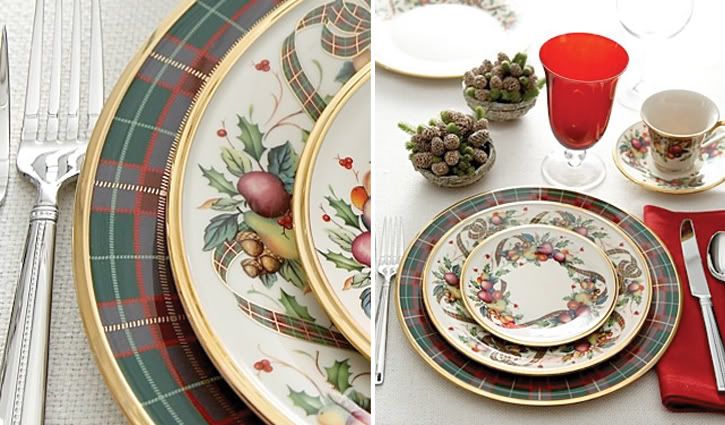 There are few patterns that spread cheer quite like tartan plaid, the classic
fabric distinguished by intersecting, multicolored stripes. Tartan has long
served as an inspiration for designers of everything from haute couture
to furniture. Designers who've made tartan an integral part of their work,
range from punk-inspired provocateurs Vivienne Westwood, Jean-Paul Gaultier,
and Alexander McQueen to the more refined fashions of Ralph Lauren and
Burberry. It's time to bring a splash of color on to your holiday table with
the most iconic of Scottish fabrics - tartan




Love it or loathe it, tartan is a favorite Christmas theme for many. Shown above,
the tablecloth is an antique Scottish shawl on which red-glass dishes and goblets
sparkle. Little details like old postcards, place cards, tree napkins rings, plaid
ribbons, and a tartan fabric ornament, which can be taken home by guests as a
token, all enliven the table.




Braveheart did battle in it. Queen Victoria decked Balmoral in it. Madonna donned
it to strut around the stage. Tartan, the beloved symbol of kin, clan and nation
to the Scots, has evolved into the one of the world's favorite fabrics. Update red
and green Christmas colors by using a very "of-the-moment" pattern in tartan
fabric and bows.




The bold checks of tartan fabric may still be used to make traditional kilts, cozy
travel blankets and ribbons for shortbread tins but, as pictured here, it can be put
to more fashionable use. But, if the idea of your table being covered in plaid
frightens you, then why not go for tartan tableware accessories instead?




Source: Lenox Holiday Tartan dinnerware. Buffet Platter, $63.20; vegetable
bowl, $137.60; cup, $34.40; fruit dish, $46.40; macy's.