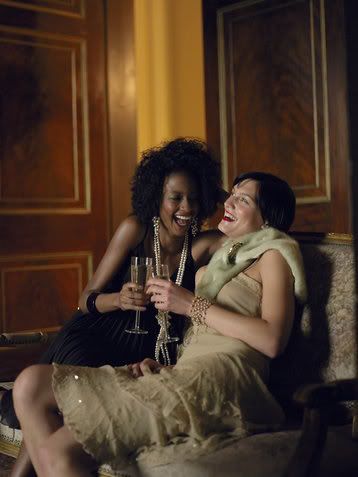 A regular glass tumbler will do fine if that's all you have on hand, and even clear
plastic is OK for a picnic or an evening concert in the park. But with New Year's on
Monday, it's time to chill the champagne and bring out the nice glasses and toast
the new year!



(l to r: luxembourg champagne flute, $68.00, Faberge, Bodanica; Lismore crystal toasting flutes, $135.00, Waterford)

Here are some caveats and suggestions regarding glassware that will provide you
with beaucoup de bubbles and a better tasting champagne.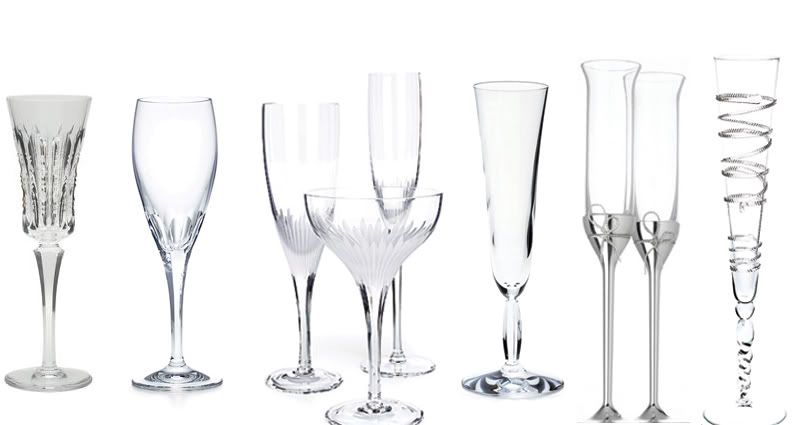 (l to r: champagne flute, Saint Louis Crystal, $175.00, Michael C. Fina; Denise champagne flute, $45.00, Tiffany and Co.; Linear platinum champagne glass, $21.60, Kim Seybert;
Onde champagne flute, $80.00, Baccarat; Love Knots toasting flutes, $60.00, Vera Wang;
Victoria champagne flute, $90.00, Juliska)

The long, narrow Champagne flute is much more common these days than the saucer-style
glass. The wine doesn't slosh around and spill as easily as it does in a saucer glass. The
bubbles also can be seen more easily as they make a long bead to the surface (the best-
quality sparkling wines have bubbles like strings of tiny beads that seem to never end).
And it's easier with a flute to get your nose close to the wine to enjoy the aroma - and that's
good because taste is greatly enhanced by smell. Whatever glass is used, may sure it is
squeaky, clean and dry, with no soap film or streaks.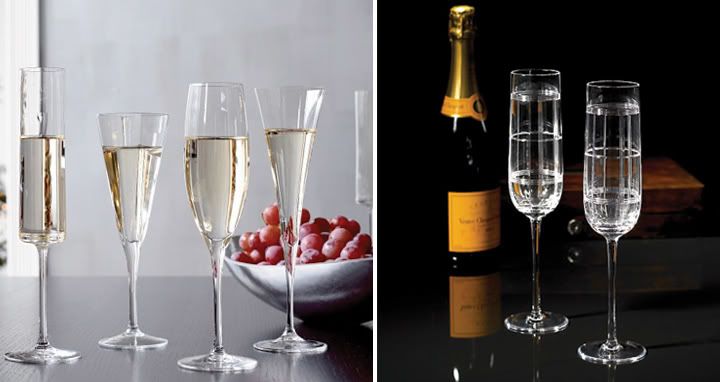 (l to r: Edge flute, $9.95, Crate and Barrel; Foster flute set, $175.00, Ralph Lauren)

Best of all is a crystal flute with no etchings or adornment that interferes with seeing the wine
Besides its elegance, the character of fine crystal adds a sparkle that enhances the natural sparkle of the wine. So when you raise your glass at midnight, ring in the New Year with style. Cheers!

Image source: Yum Sugar