(above: Jasper Conran for Wedgwood, Platinum; Waterford, Ballet Ribbon,
both available at Bloomingdale's)

With 2008 in full swing, I know many of you have made at least one New Year's
resolution. I, too, have made personal and professional goals for 2008. Top on
my list is to celebrate life! Holidays and milestone dates are not the only reasons
to celebrate, just gathering with friends and family around the table is reason enough
for celebration. That means not only coming up with a menu and cooking a meal but
setting a beautiful table and a easy way to do that is with razzle-dazzle metallics. They
instantly add glamour to your table.



(above: newest collection from Haviland, Allure, satine platinum, Michael C. Fina)

When it comes to formal china, platinum-banded place settings are the most popular.
I know several brides, like myself, who have registered for platinum-banded china.
The reason many couples are picking traditional patterns, such as gold- or platinum-
banded plates is because there are so many ways you can change the look of it.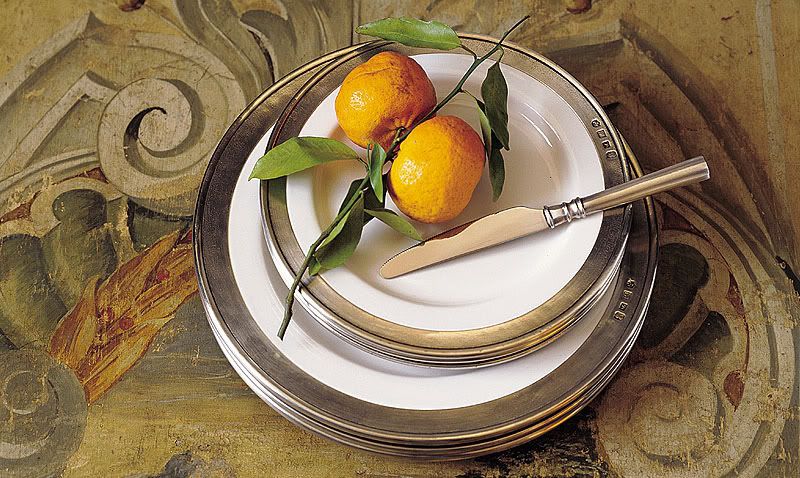 (above: the dinnerware that I'm registering for, Match Pewter, Convivino)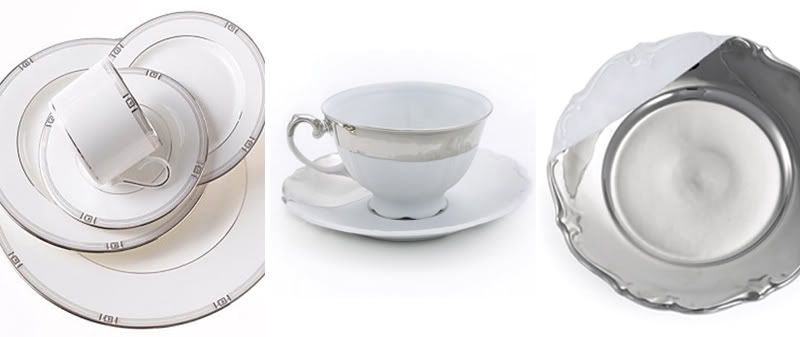 (l to r: Anne from Perfect Bound registered for Lenox, Westerly Platinum and my girlfriend Stephanie is registered for the Paola Navone collection)

There's no doubt that platinum has proven to be golden in the fine china category.
Initially perceived to be a trend, platinum is here to stay. Part color, part texture,
the heart of the appeal of platinum is the reflective shimmer that gives depth of
character to surfaces and finishes. You can make a regular day special by setting
a table that's glitzy and atmospheric. Cheers to everyday!