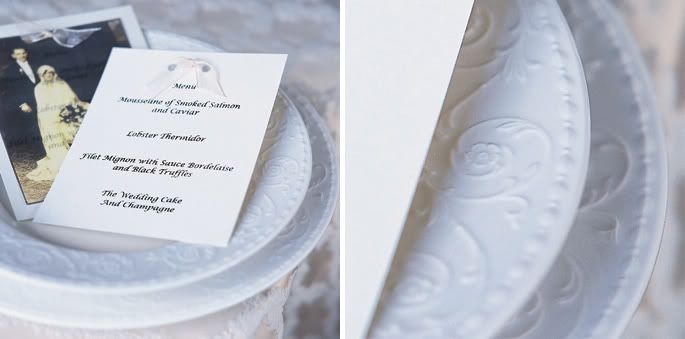 With the growing popularity of the Food Network, Top Chef and other cooking
programs many people are looking for ways to create restaurant-quality meals at
home. I know for myself, I'm not only looking at what tools and utensils the professional
chefs are using, I'm also looking at how they plate the food. What I've noticed is that
stark white dinnerware sets the stage for today's food. Even for a home cook, like myself,
illusion is the key: a disastrous culinary misadventure can be salvaged when I place it on
a pristine white plate.



(l to r: Calvin Klein Circles, Bloomingdales; Bernardau Louvre, dinner plate, $32.00, Horchow)

With today's eclectic menus, anything goes, and since everything goes with white it
continues to sustain its popularity. A major advantage to using white dinnerware is
its price niche. White dinnerware is the least expensive in any manufacturer's lineup.
Economics aside, the aesthetically pleasing properties of white also account for its
appeal year after year.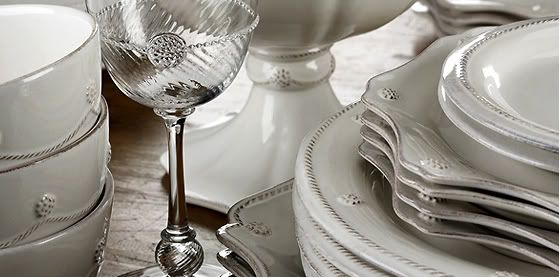 ( above: Juliska Berry and Thread dinnerware, Juliska)

White china is dynamite if you want to put more interest on the food. But white can be
improved upon, for the hottest, trendiest new look in tableware, try mixing and matching
whites with patterns and color.



(above: Astier de Villatte Regence, John Derian)

With the broad range of stylish white dinnerware on the market today, "setting the table"
to suit your personality, your home's decor, your food and your mood is easy, affordable
and lots of fun. The white dinnerware that I've mentioned here are just a few of my
favorites.



(l to r: Rosenthal A La Carte, Tatami, Scoop, Nimbus; Ralph Lauren Spring Lace, Bloomingdale's)