With handcrafted tableware designed to stimulate the senses with surprising
combinations of texture and form, this Texas company is a fresh face in the
centuries-old china market.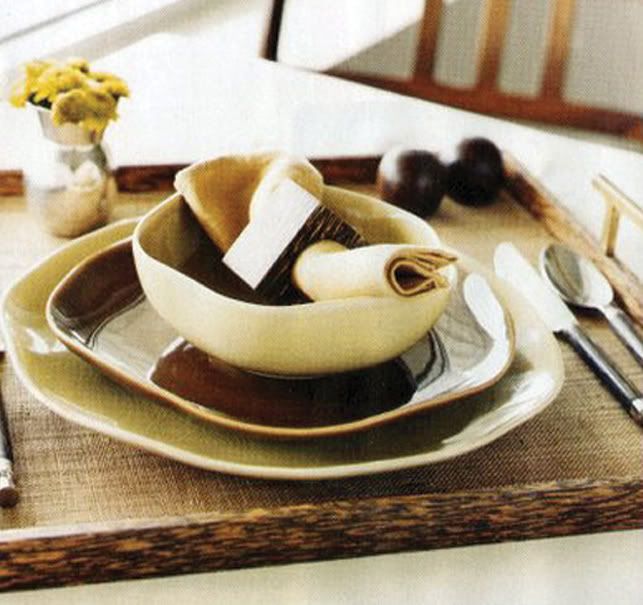 I was so happy to see Atticus profiled in this month's issue of Southern Accents magazine.
I'd written about the brand in a previous post entitled, "Home Sweet Atticus Home"
as I am such a huge fan of the entire collection. Crafted from luxurious yet
environmentally friendly materials, such as buffalo horn, sand-cast aluminum and
sustainable woods, each piece is a functional work of art!

What I love most about Atticus is its founders - - - Marcela Sheridan and Atticus Lyon.
They wanted to make tableware for the customer who wanted to live with beautiful,
smart and casual things and that is exactly what they did. Atticus left his job in the
high-stakes world of investment banking because he needed a creative outlet. After
five months of extensive research he and partner Marcela Sheridan, who studied
product design at Parsons School of Design decided to try their hand in the tabletop
market and in 2006 they introduced their first line. There is something to be said for
those that are able to step out of their 'comfort zone' to follow their passion.




I think we can all be inspired by Atticus and Marcela. As we start this new year, is
there something you yearn to achieve - - - start your own business, take a class, design
a website, create a blog or make tableware? If there's a dream in your life - - - something
you yearn to achieve, or merely something it would be so much fun to try - - - don't put
it aside, do it now. Yes, now. Don't put off tomorrow what you can do today.

Atticus dinnerware can be found online at : Bloomingdale's, Vivre and other fine tabletop
retailers.