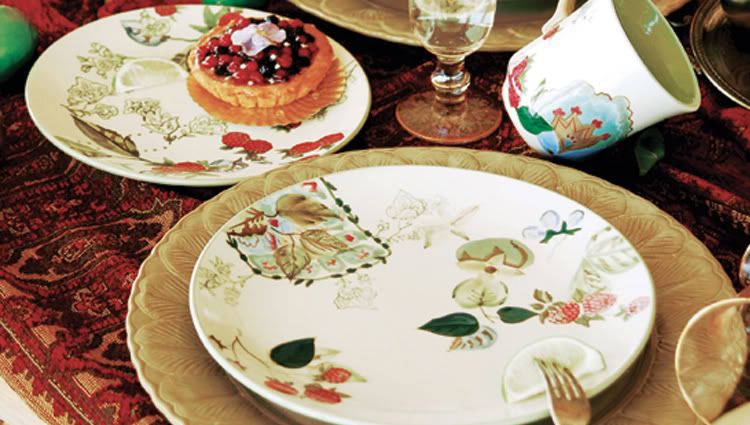 (above: Sweet Cecily dinnerware collection, Tracy Porter)

Tracy Porter, a Wisconsin native, started a hand-painted furniture business with her husband
out of the chicken coop of their Midwestern farm. She is a self-taught artist. She is not
formally educated in design. Instead of going to college, she moved to Europe for two
years to model, which exposed her to so many cultures and opened her eyes to the possibilities
of design which enabled her to hone in on her own design ideas.



(l to r: Lemon Chiffon dinnerware; Vivre dinnerware; Horchow)

I have always been a fan of Tracy Porter's work and for the last two days I've been enjoying
the two-part interview that my friend Ronda over at "All The Best" had with Tracy and her
husband John. Make sure you check it out!



(above: Auguste Coq dinnerware collection, Tracy Porter)

"Dream with Your Eyes Open", that's Tracy's philosophy. Each of her tableware pieces are
inspired by color, music, texture and smell to awaken the senses. Her dinnerware, glassware
and accessories emphasize the casual trend, the mix-and-match concept and the handcrafted
look.



(l to r: Artesian dinnerware; Corvina dinnerware; Horchow)

Tracy Porter's studio is located on her farm in Princeton, WI. Even though the Porters still
live on a farm, the business has certainly moved out of the coop. The Tracey Porter Home
Collection has expanded vastly since its early beginning. Today it includes bathtubs, area
rugs and other products.

Her tableware can be found at Horchow and online at Tracy Porter's website.