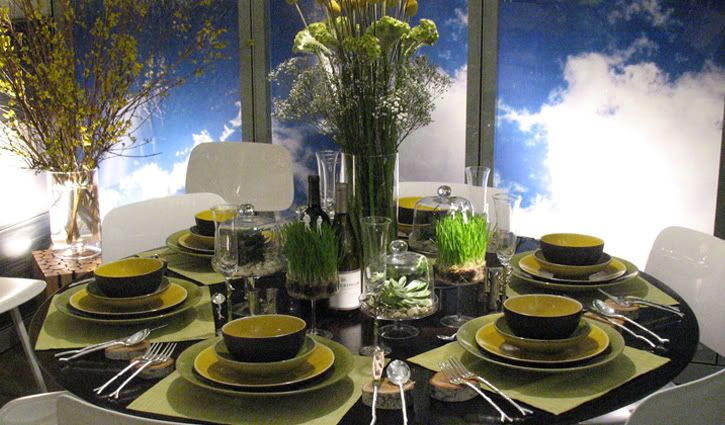 I definitely think the green movement is more than a passing fad. Over the last year,
shelter magazines and trade publications have spent space and energy focusing on green.
It has made me think, or at least wonder about organic place mats, bambo plates and
handmade ceramics. Every day I see more and more options and ideas that are
environmentally conscious. And yes, many of the ideas are perfectly suited for a eco-chic tablesetting.




Tree trunks used as flatware holders, available at your local nurseries. The flatware is from
Michael Aram's Forest Leaf Collection. It takes its inspiration from the intricacies of
form and texture found in foliage from around the world. Natural twigs cast in place with
stamped tops, in silverplate–add a piece of the forest to your place setting.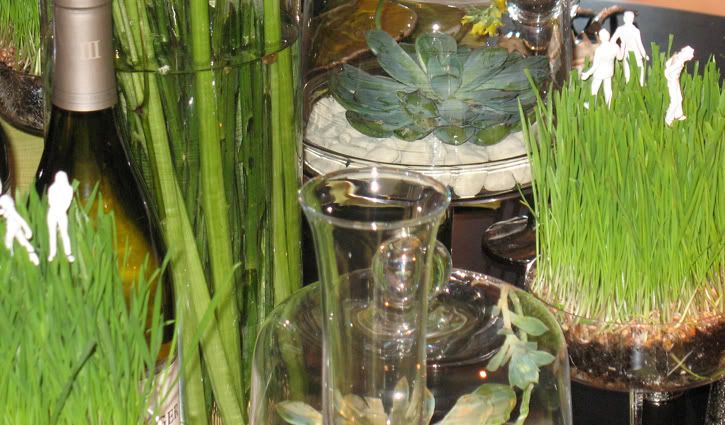 The succulent and grass centerpiece pair nicely with the Tourron line of ceramic dinnerware
from Jars Provence Design. Jars is handcrafted in France. The company, founded in 1857, has
been a family enterprise for four generations. By combining state-of-the-art technology with
traditional craftsmanship, Jars produces vividly colored settings and serving pieces that will
brighten your table every day.




All in all, there has been a long-awaited awakening to the needs of the planet as well as to our
personal well-being. When people are given the opportunity to make a difference, I think they
will positively modify their purchasing and consumer habits. This transformation will continue
as more people realize the link that exists between purchasing environmentally conscious
products and their personal environment. Being conscious of the environment is no trend,
it's here to stay.