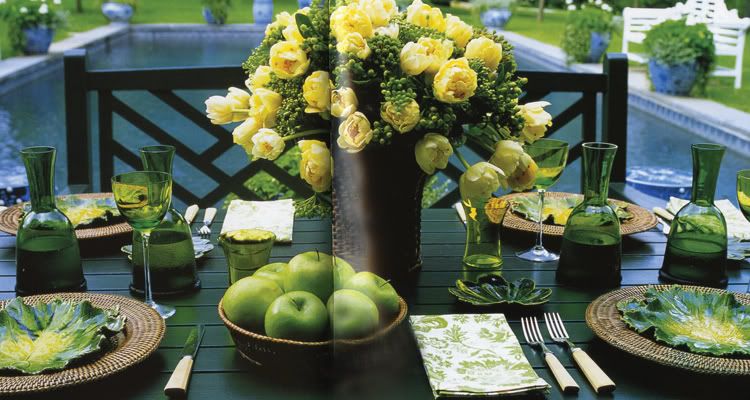 Perhaps taking a cue from the season's springing flowers, stemware -- from regular glass to expensive crystal -- is filled to the brim with color. Color is king right now and green glassware is a beautiful way to liven up any table. I love the way Carolyn Roehm set this table using green glasses.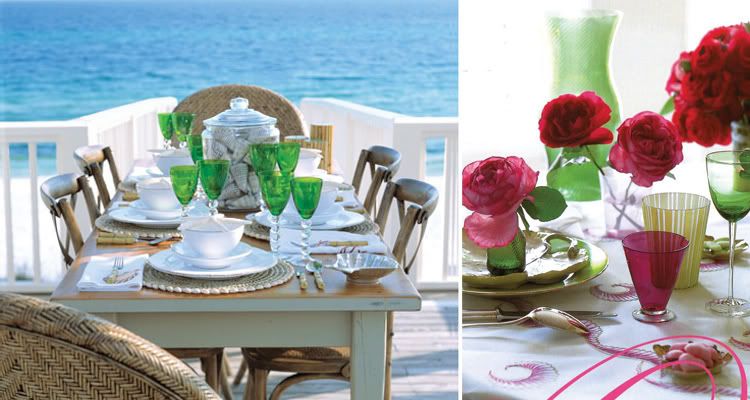 Chartreuse, Kelly, Emerald and Hunter are all bold, vibrant shades of green flaunted for years by the fashion industry, well they have now spilled onto the table. The fun and elegant glassware makes its mark, offering style-laden options fit for lavish celebrations or everyday dinners at home. A full lineup of shapes and styles turns these drinkware options into anything but ordinary.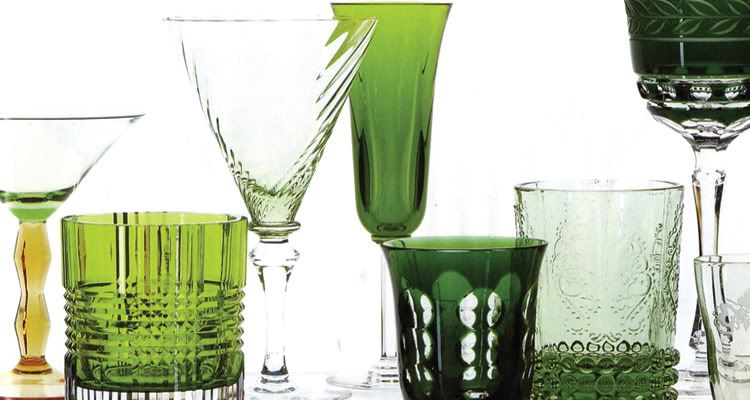 (l to r: Hand-cut crystal Bamboo martini glass with green bowl and six-sided amber stem, Moser, $125.00. Handblown, hand-cut crystal viden double old-fashioned in chartreuse, artel, $164.00, 866-448-7683. Crystal goblet with green bowl, Laura Japy, $48.00, bloomingdale's. Teardrop-cut crystal Cerdagne champagne flue in chartreuse, Saint Louis, $200.00, Michael C. Fina. Handblown cased-glass Kawali goblet in Anise, Christofle, $170.00, Pavillon Christofle, 877-728-4556. Pressed-glass Marquis tumbler in green with laurel-tree pattern, Waterford, $49.00/4, Bloomingdale's. Handblown etched-crystal Merian white-wine glass in emerald, Mottahedeh, $210.00, Michael C. Fina. Frosted-glass Bangalore show glass with floral motif in green, Kenzo, $90.00/4, Unicahome.com)


(above: Transglass recycled vase by Emma Woffenden & Tord Boontje ,$38.00, Re-modern)

Are you looking for a great way to liven up a party? Using color can be a way of expressing your personality on the table. Are you environmentally conscience and would like to set your table with a "green" point of view. The Transglass collection features glassware vessels made from recycled wine and beer bottles. The sharp lines, clean forms, and original bottle colors express positive attitudes about beautiful design that's kind to the environment. Whether it's a big catered party or a dinner for six. Try setting your table with colored glassware. Green carries color and reflects light like no other material; the stemware just sparkles like emeralds.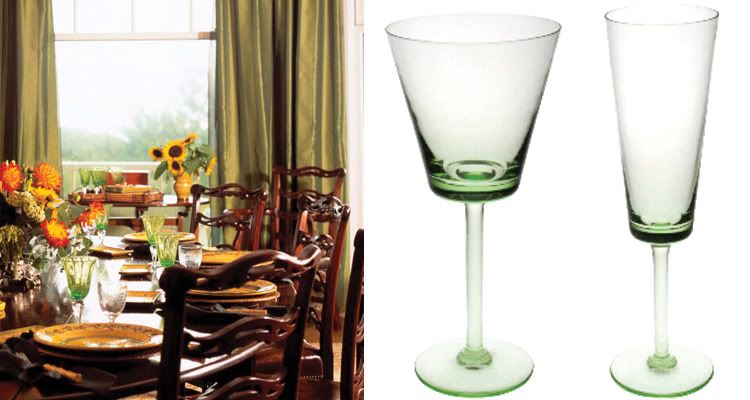 (above right: Cristallerie de Portieux wine glasses, $40.00, Michael C. Fina)

As you enter the holiday season, forget traditional stemware and set your table boldly and creativity, by using green stemware.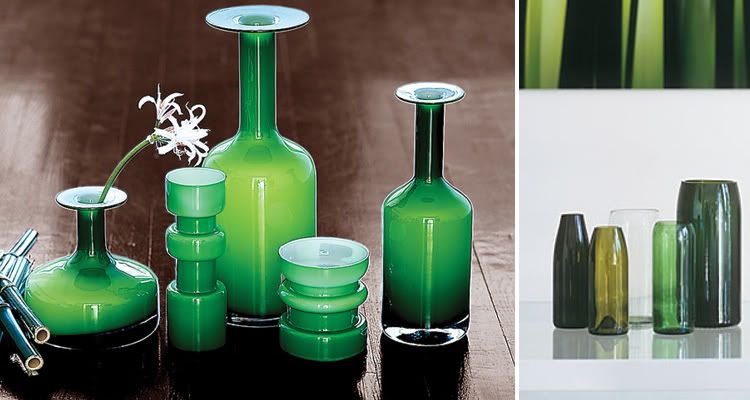 (above left: Baton vases, $5.99, West Elm)

Cheers to stepping beyond the boundaries of expected style!