Hooray for 1stdibs.com! While visiting their site this morning, I was thrilled to see that they have announced that Marian McEvoy will be joining the editorial team to cover the new monthly column, "The Talent". Marian will dive into the lives of designers and dealers who are using 1st dibs in their search for great design. While editor-in-chief of House Beautiful she was the first to discover 1stdibs and introduced them to thousands of readers. I am sure they are thrilled to have her take on this column since Marian is always at the fore front of design.




As a lover of a well-dressed table, Marian McEvoy is definitely an inspiration to me. The former editor-in-chief of Elle Decor and House Beautiful, is famous for her unique vision, sophistication and experience in the home lifestyle and design category. All china lovers have a special place in my heart, Marian especially, when interviewed by Food & Wine magazine this is what she said:

What do you like to collect?
I'm a china nut—I have eight sets, most of them vintage or antique. Swid Powell, which no longer exists, is my favorite modern china maker. They had Charles Masson [the owner of the Manhattan restaurant La Grenouille] design plates with a pink pattern, a white border and a little black band that are really chic. I like china that has white on it somewhere, whether it's the pattern or the border.

If you could design anything for the table, what would you pick?
Plates. If Swid Powell were still in business, I'd want to design something for them, but now I'd probably choose Bernardaud. My great-grandmother painted porcelain. She bought Limoges standards, hand-painted them and then had them fired. She used them as chargers, but I like to serve food on them instead.

Marian McEvoy is a "Muse" to many, here are a few:

I'm a loyal Domino reader and I think Deborah Needleman scored a major coup by hiring her as a columnist. Marian's column is my favorite every month!


Who will ever forget the EBay showhouse in 2003. When executives at the online auctioneer was looking for a new way to highlight their home furnishings category, they turned to renowned interior designers and set them loose on the site. Each of the designers -- Laura Bohn, Christopher Coleman, Jamie Drake, Tiffany Dubin, Glenn Gissler and Marian McEvoy -- was given a room or set of rooms to design, a budget based on room size, and a request that 80 percent of the items be purchased on eBay. Marian's dining room was my favorite!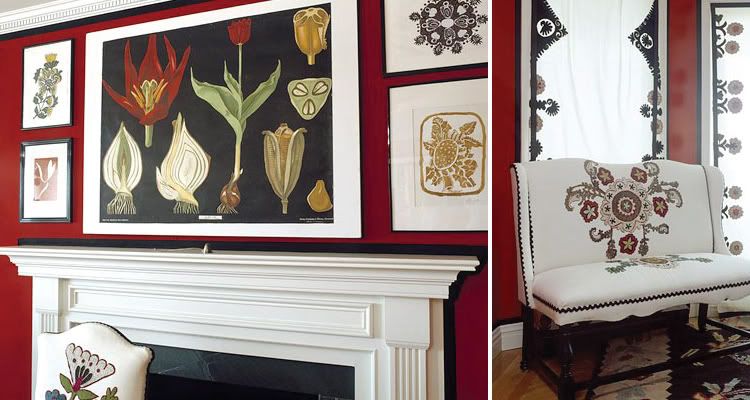 In Annie Kelly's book "Rooms to inspire: decorating with America's Best Designers", twelve trendsetting designers were chosen to bring a fresh point of view to creating interiors for a spectrum of living spaces. This selective group includes Marian McEvoy and others like Kelly Wearstler, Muriel Brandolini, Jonathan Adler, and Simon Doonan.




I am happy that Marian McEvoy continues to expand her love of houses, interiors and the philosophy of stylish living to ultimately inform, help and delight readers like myself.