Aprons strings, those humble yet powerful domestic symbols, tie me to traditions, evoking memories of all the cooks in my family who have shaped my everyday meals and holiday feasts through the years.

To kick off the fall season, I asked Brooke to draw a new illustration - - - a modern, fresh, stylish woman who embodies the Toast and Table reader. When Brooke finished the drawing and showed it to me, I loved it immediately and loved the fact that she included an apron!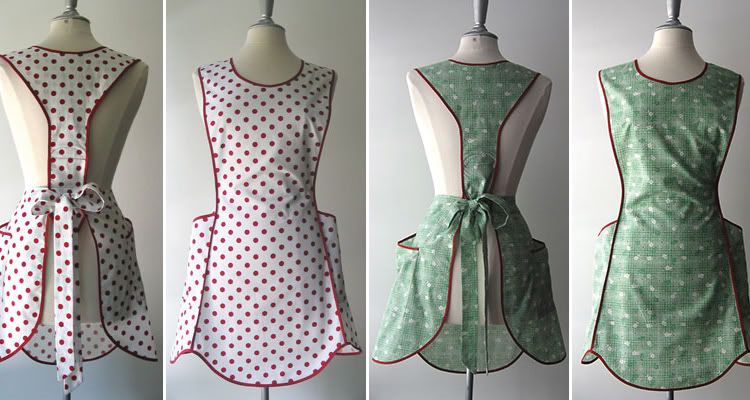 My great-grandmother, Sarah, was a fabulous hostess - - - while stirring, simmering and sautéing she'd wear her "practical apron" and then she'd slip into her hostess version to serve the food and mingle. I swear she probably had a different apron to go with every dress, they were clearly her fashion accessory. These aprons by BellaPamella is a modernized version of her aprons.




The apron's threatened demise has as much to do with changes in fashion as it does with changes in meals. Who needs an apron if you're wearing casual clothes that can be tossed in the washer? And who needs an apron to microwave a frozen dinner or open a Chinese takeout carton? It doesn't matter if I'm ordering takeout or cooking in, when I want to feel sexy in the kitchen, I turn to my apron by Jessie Steele. Great news!!! If you head over to "Life in a Venti Cup" you can enter to win a hip Jessie Steele apron with matching oven mitts.




No longer tied to the concept of a mere uniform for domestic chores, aprons have become a wardrobe essential. The new generation of domestic goddesses demanded stylish aprons and designers were paying attention. Needless to say, some of these aprons, like the ones shown above by Delilah Crown, are more about looking fabulous than they are about keeping sauce off your skirt. And there's nothing wrong with that!




(lst row: camel apron, waffle apron, leaf apron; $65.00; Virginia Johnson)
(2nd row: vintage apron top; $165.00; Camp On Perry)

Fall kicks off the holiday season, so as reach into your drawers or closets for a protective covering to tie around your waist, may you feel a connection with the past, and a kinship with those before you who took pride in the endless details of homemaking. I know I will.




(above: Ivy League apron; $61.60; Kitsch n' Glam)
(1st top photo: Needle Art Apron; $24.00 - $32.00; Anthropologie)