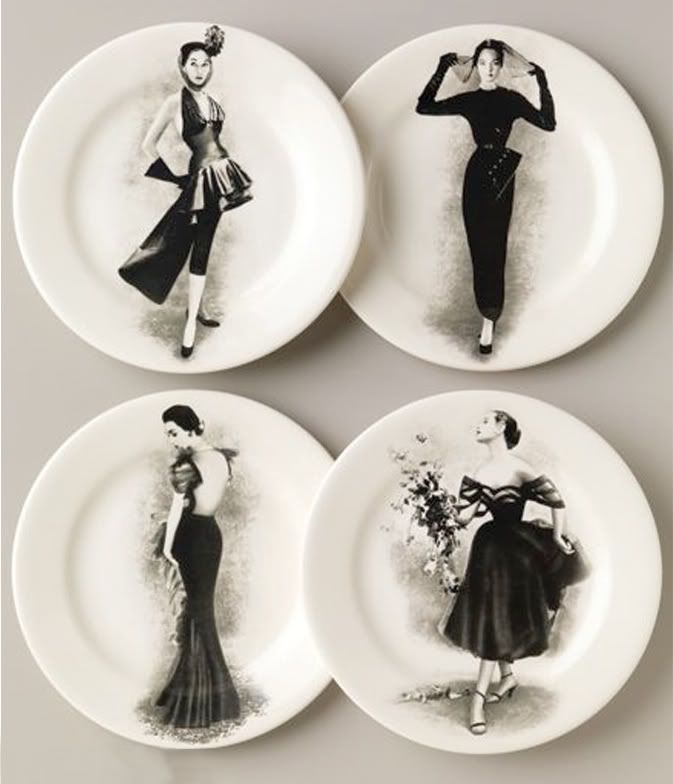 "The cake's on Neiman Marcus" or it will be when you serve on these fashionable dessert plates.

In 1907, Herbert Marcus, his sister, Carrie Marcus Neiman, and her husband, A.L. Neiman, all under the age of 30, started Neiman Marcus with one simple but ambitious idea: to bring the luxury, ready-to-wear fashions of New York and Paris to Dallas.
Neiman Marcus is
celebrating 100 years
and in true NM fashion they will be providing its customers with only the best high-end fashion by releasing exclusive designs from some of the world's most celebrated fashion houses - - - handbags by Judith Leiber, shoes by Giuseppe Zanotti and clothes by Monique Lhuillier.
For those not concerned about fitting into a designer label, you can at least eat on one. To me, food is like fashion anyway, with the right accessories, it can look pretty chic. This isn't to say that a luscious dessert can't make a statement on its own. But serving up fare on these gorgeous plates takes it to another level. Exclusively for Neiman Marcus, French designer, Gien, has created these fashionable dessert plates that can give your dessert even more appeal. When they're not showing off your newest recipe, they can make a fashion statement in your kitchen niche.
(above: Fashion Plates, set of 4, Gien, $100.00,
Neiman Marcus
).