Fall is approaching, Halloween is on the way and a small army of pumpkin farms are geared up and ready for seasonal pickers.

As a decorating staple during autumn, the pumpkin often falls into the realm of jack 'o lantern whimsy; but there are so many other great ways to enjoy pumpkins beyond the typical jack-o'-lantern.



(above: Image from Pottery Barn; Pumpkin Candles, $24.00, Pottery Barn; Reception design by Pollen Atlanta).

If you're trying to spice up your Thanksgiving decorating or planning for a autumn wedding, colorful pumpkins offer a wealth of possibilities.



(above: Image from Brides.com; Pumpkin weight by Matthew Mead, Image from Country Living).

Let these images inspire you and prove that the pumpkin is more than mere child's play. From candles, centerpieces to ceramic serving dishes and table weights, these pumpkin-inspired designs show the more sophisticated side of the season.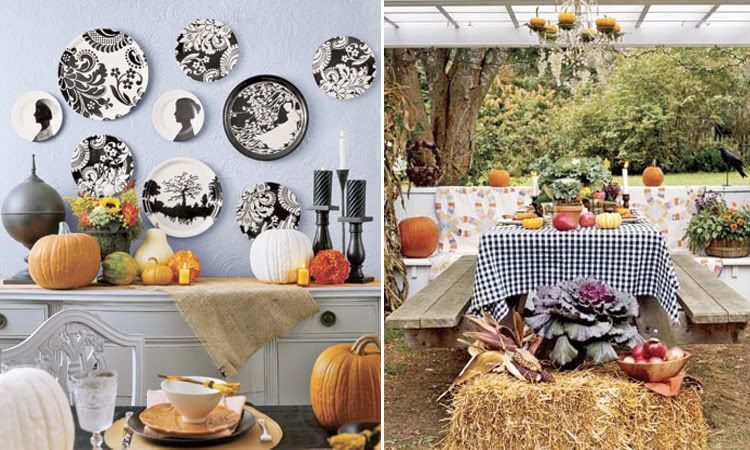 (above: Image from Country Living).

4Arrange a variety of fresh fall flowers in a urn filled with water. Place the urn in the middle of the table surrounded by pumpkins, use leaves, pinecones and twigs as accents.

4Use smaller pumpkins as place-card holders. Cut a slit in the stem and slide in a name card, or paint your guests' names directly on the pumpkins.

4Use hollowed-out pumpkins as serving bowls. After scooping out the seeds and pulp, line a pumpkin with orange cellophane or a decorative cloth napkin and pack it with chips, crackers or candy.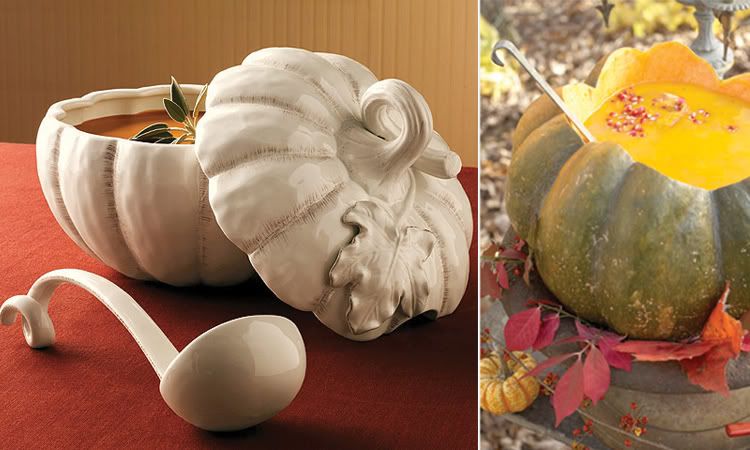 (above: Countryside Harvest Collection Pumpkin Soup Tureen, $29.99, Mikasa; image from Country Living).

4Use a large pumpkin as a tureen for warm pumpkin soup and smaller pumpkins as soup bowls. If you're having a party, consider using a large pumpkin as an ice bucket or a serving bowl for hot spiced cider or punch.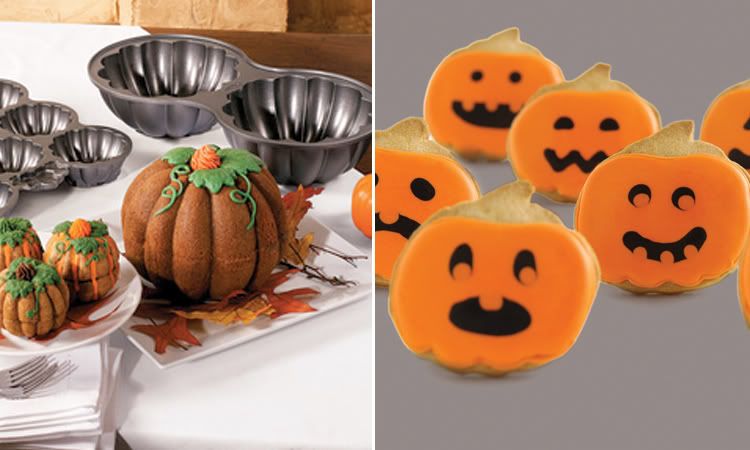 (above: Wilton Pumpkin cake pan, $27.95, Sur la Table; Pumpkin faces cookies, $45.50, Elenis ).

When creating your autumn table, make sure that your foods and decor embody the season.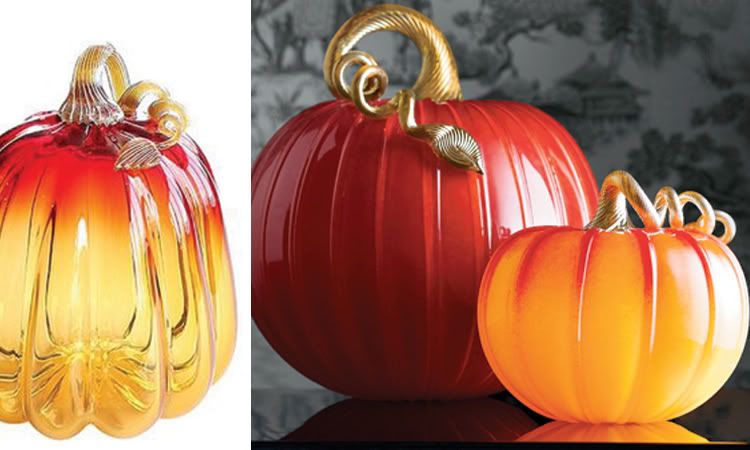 (above: Solid Glass Pumpkin, $19.99, Target; Handblow Glass Pumpkins, $185.00, Gump's).