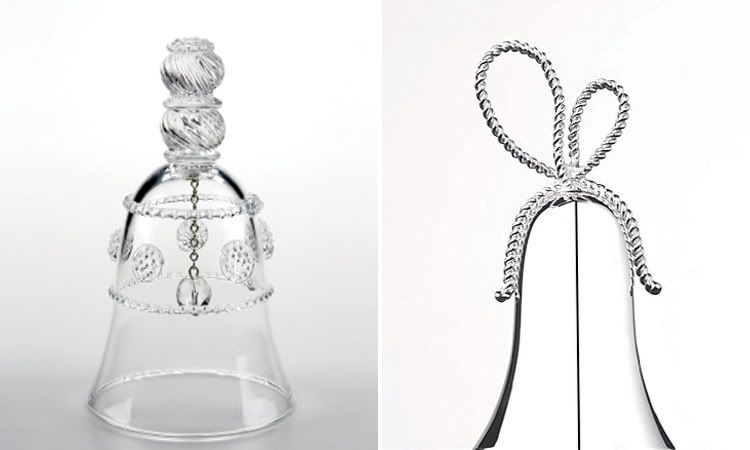 (shown above: small bell, $78.00 Juliska; Vera Wang kissing bell, $24.99, Gately's).

In planning a wedding, the main goal today is to have a 'one-of-a-kind' wedding that will stand out in the memories of your guests as being extra special! Many couples are using themes to make their weddings more personal. Themed weddings allow people to bring in their ethnic and cultural backgrounds and to tell the story and embrace who the couple is.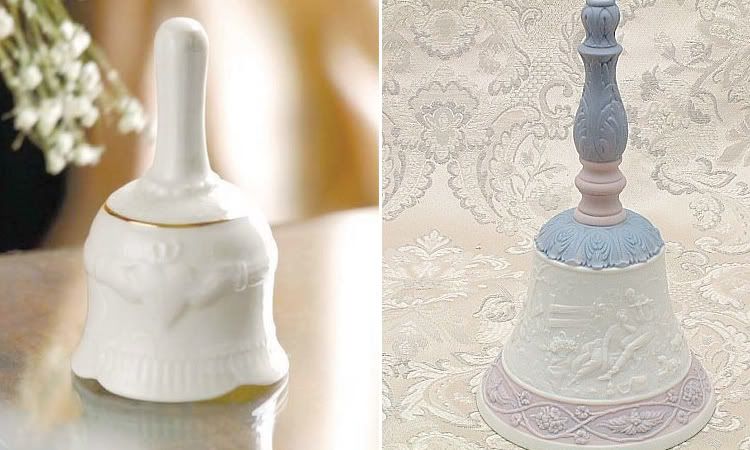 (shown above: Make up Bell by Belleek, it is a tradition in Ireland to present couples with a "make-up" bell… This bell is rung when one partner is ready to "make up" and end any little quarrel., $29.99, Gately's; Wedding Bell, $30.00, Llardo).

On Friday I posted the inspiration behind my wedding theme, "Game Night", a family tradition that is special to Chip and I. Looking for ideas and suggestion to pull this theme together, I turned to my blogging friends and the feedback I received was unbelievable! Vane, Danielle and Natasha provided me with every available option you could think of! Now, all I have to do is pick the ones that I feel most perfectly makes the statement that I want to make.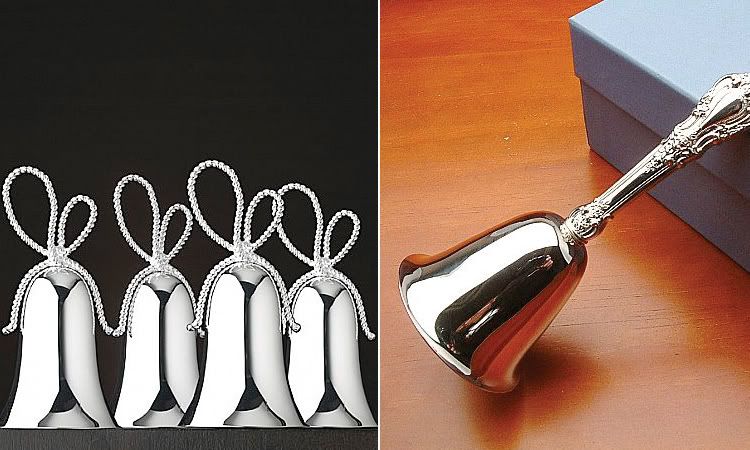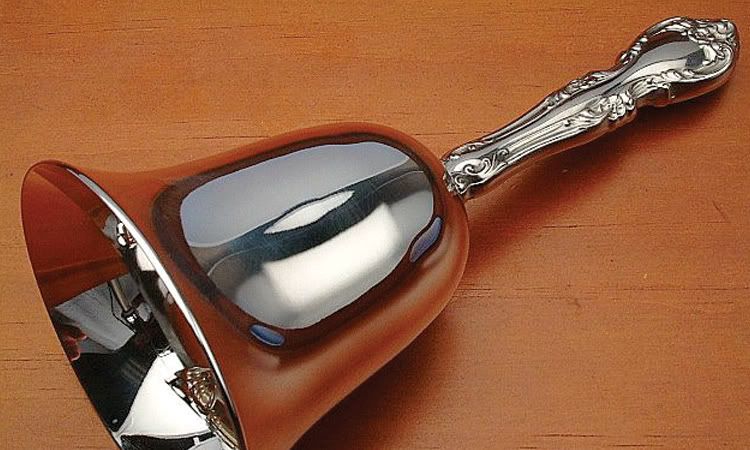 (shown above: Vera Wang sterling silver love knots bell, set of 4, $65.00, Silver Queen; Silver Wedding bell, $59.00, Gorham; Silver Kissing Bell, $76.50, Lunt Silver).

Wedding theme or not, ring your day in with distinction. Put an end to the utensils hitting the glasswear and kiss in style. These wedding bells are the perfect wedding accessory, which can be rung by the flower girl announcing the bride's entrance, placed on guest tables or given as a cherished favor.




(shown above: african-american bridal bell, $195.00; bridal bell, $180.00, both available at Lladro).

Wedding themes also reflect periods such as Medieval, Elizabethan, Victorian, Civil War, Roaring Twenties, Art Deco, The Fifties or The Sixties. Some are based on locations: Kentucky Bluegrass, Southern Plantation, Western Ranch, the French Quarter. Others reflect a season or a holiday such as Christmas, Thanksgiving, Valentine's Day, St. Patrick's Day, or Mardi Gras.

Are you thinking of having a theme wedding? Do tell and let the amazing group of talent within the blogging community help you with the bells and whistles.