Chip and I are learning so much from my parent's, who recently celebrated their 40th anniversary. We are learning that the key to harmony and happiness in their relationship comes from the flip of a card in a game of gin rummy, the sound of dominoes slapping the table and the advancement of the checkers across the backgammon board. I love the fact that after 40 years of marriage my parents still play games together!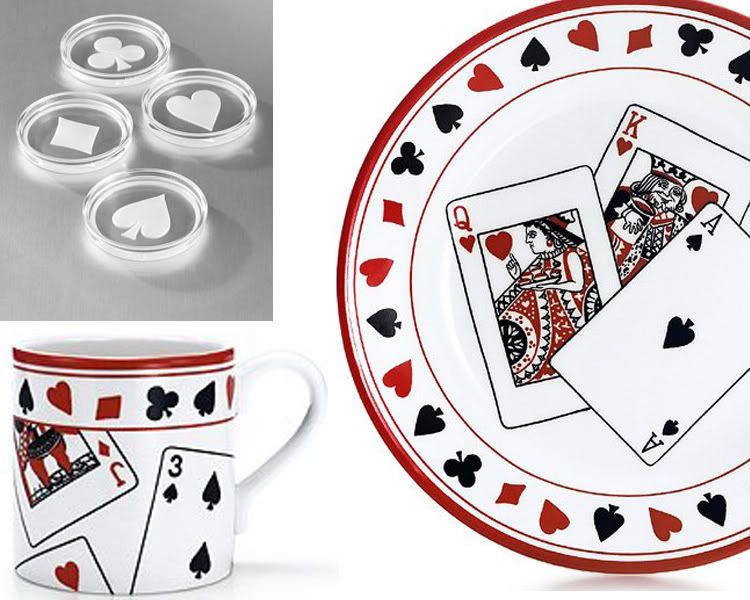 (shown above: Kate Spade gin rummy coasters, set of 4, $35.00, Park Ave Gifts; Playing Card dessert plate, $35.00; Playing Card Mug, $35.00; both available at Tiffany & Co).




(shown above: Oscar de la Renta City Collection: Domino Place Card Holder, Domino Frosted Cocktail Shaker, Domino Lacquered tray).

Growing up, "Game night" was the foundation of my family's quality time. The sharing and laughter that occurred when my family played board games or cards together has made for some lasting memories and created a family tradition. Now that I am getting married and starting a family of my own, Chip and I will continue to uphold this "Game Night" tradition because we're learning that it can do wonders for a relationship. I am even considering having a "Game Night" theme for my wedding.




(clockwise: Chess Bar Collection dof, $70.00, Reed and Barton; Kate Spade Gin Rummy decanter, $125.00, Four-suits-vodka, $550.00, Steuben glass; Dice bottle stopper, $75.00, Ralph Lauren Home; Spice Dice, Unica Home).

What does playing board games have to do with relationships? A lot, actually. As a new couple, it is a fun excuse to meet new neighbors, hang out with old friends or spice up a dinner party. It's also a great way to gain a little insight about those you think you know: Who knew that your soon-to-be, sweet mother-in-law was so competitive or that your future father-in law was a sore loser? (Well, Chip knows now…)




I hope these tableware finds have inspired you to log off the computer, put down the blackberry, invite people over and have a "Game Night"!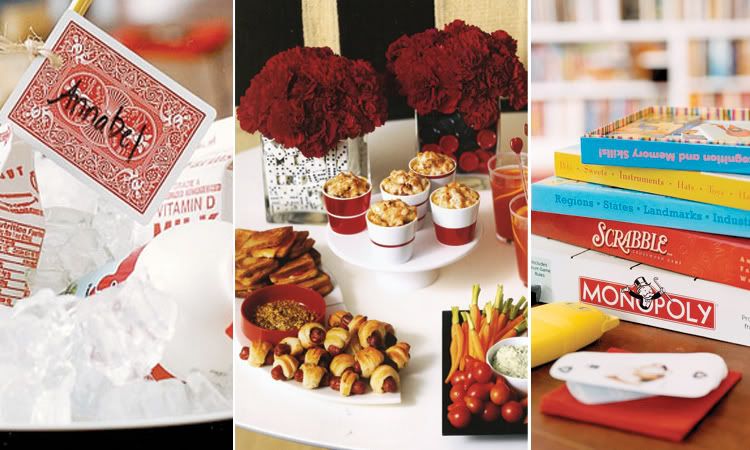 ( Inspiratation for my wedding reception: Escort cards made out of playing cards; cocktail hour
hors d'oeuvres would consisit of slides, pigs n' a blanket, mini grilled cheese, veggie, etc.; domino and checker filled centerpieces, board games at the children's table, deck of cards for favors, etc. Do you see where I'm going with this? The best theme wedding I've ever seen is "Grade School Sweethearts", check it out at Brooklyn Bride and check out the post Vane did just for me entitled, "For Sarah: Ulimate Game Night Wedding", she's unbelievable and provided me with so much inspiration for my themed wedding! Vane, THANK YOU, these invites are fantastic)!

Board games are hot! Yes, Monopoly and Scrabble are good board games; but look at these luxurious alternatives; they are perfect for the stylish high-roller who takes their play seriously: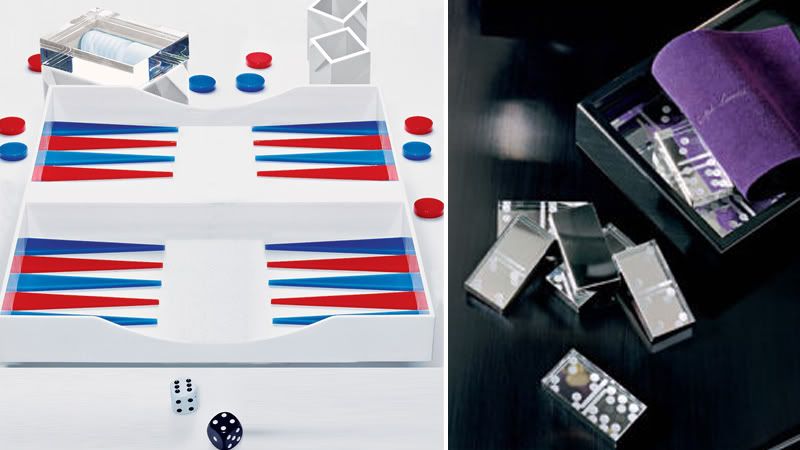 (shown above: leather traveling backgammon set, 98 pounds, Links of London; Acrylic backgammon , $625.00, Vivre; Glass dominoes set, $595.00, Polo Ralph Lauren; Medieval Chess Set $2500.00, Lladro; Jonathan Adler Utopia Playing Card Box, $125.00, Barneys; Small Poker Game set, $290.00, Vivre).