For many folks, nothing says fall like football. For some, it is a yard full of leaves. For others, it may be picking pumpkins at a pumpkin patch (a reader wrote me yesterday about the pumkins that she grows in her very own patch and boy are they beautiful. Marti, has a green thumb for sure! [click here])! For me, it's the opportunity to decorate with a bounty of reds, oranges and yellows, in a harvest of mums, branches and pumpkins.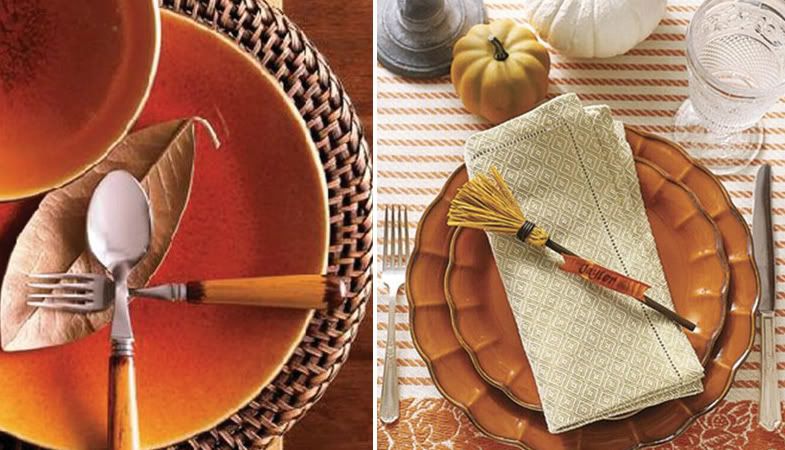 (above: Persimmon Dinnerware, Made in France by Jars, set of 4 dinner plates, $110.00, Gumps; image from Country Living magazine).

Those who like to decorate may welcome autumn by changing the colors in their homes and the colors on their table. It could be simply adding a brown and gold table runner on the table or trading the blue and white dessert plates for sage green and bronze or replacing the daisies on the dining table with a cornucopia of gourds.

I've put together a table setting report with some of my favorite table settings that are full of autumn accents to give you some inspiration to dress your table in the gorgeous hues of the harvest.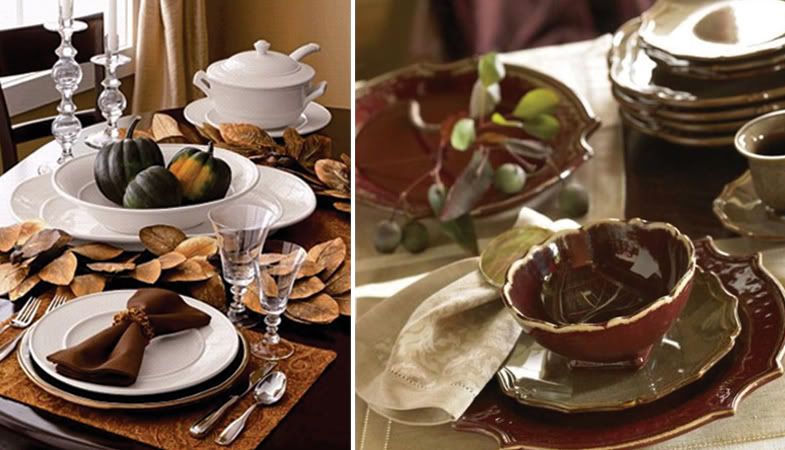 (above: Milo Charger, $21.95, Crate and Barrel; Tudor and Provence dinner plate, set of 4, $ 29.00, The Bombay Company; Pheasant salad plate, set of 4, $48.00, Pottery Barn).

To dress earthy stoneware for dinner, layer on rich olive green plates with a glowing bronzed rim. For a simple update to the autumn table, add Pottery Barn's pheasant salad plate, a updated vintage copperplate set up against porcelain. For that extra touch, add warm color and organic texture to the table with a handwoven natural rattan charger.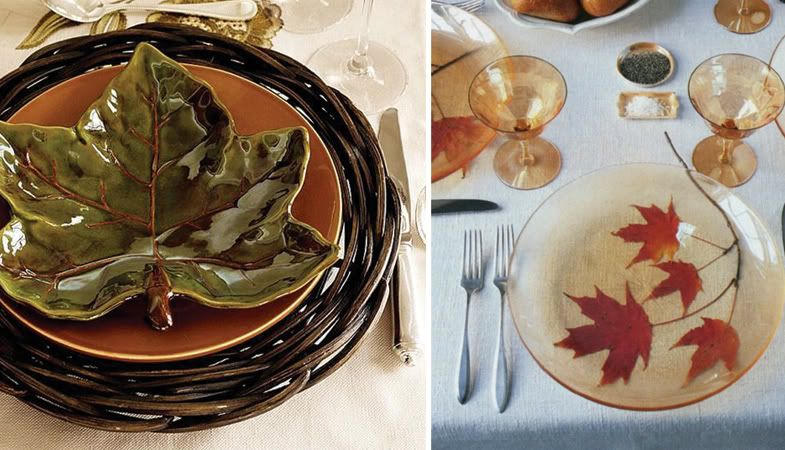 (above: Harvest leaf salad plate, set of 4, $56.00, Pottery Barn; Martha Stewart magazine).

For a splash of style, adorn your table with autumn's brightest accessories: vivd fall leaves. I love the harvest leaf salad plate at Pottery Barn. As an alternative, simply clip leaves from a tree and arrange the clippings at each place setting and top with a transparent glass plate.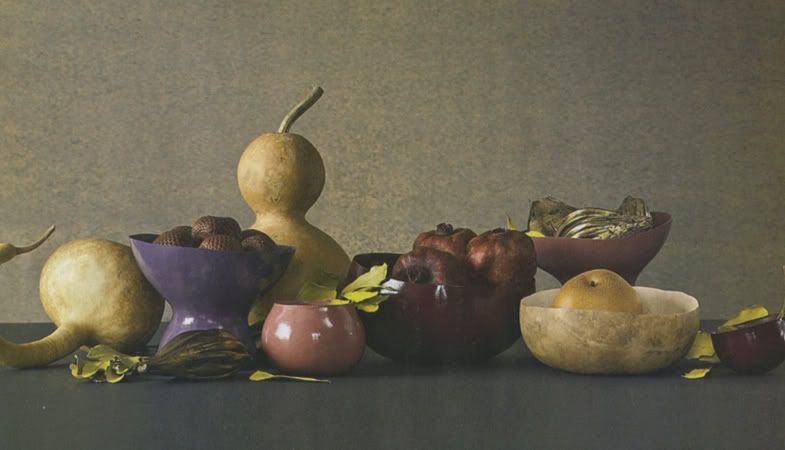 (above: Image Country Living magazine; Marrakech Dinnerware, $12.95 - $14.95, Crate and Barrel; Image from Blue Print magazine).

Taking advantage of flowers and produce available at this time of the year is another way to celebrate fall. Pomegranates, colorful dried corn, nuts, berries, citrus and apples in bowls or baskets can add a warm touch as a centerpiece. Place a large straw cornucopia or small bowls on the dining table and fill it with raffia, gourds and pepper berries.



(above: Laque de Chine Gold by Haviland, dinner plate, $90.00, Bloomingdale's; Luxury dinnerware,
16pc setting, $519.90, Horchow).

Depth of color and a golden gleam add a rich accent to a autumn table settings. The gold band
highlights the subtle shaping of the rims of these dinnerware patterns.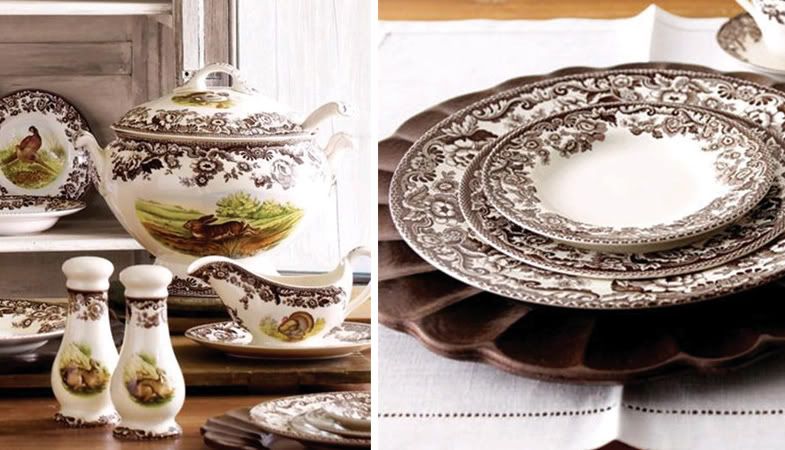 (above: English earthenware from Spode® features traditional game and bird studies with a border pattern inspired by the British flower designs favored in the early-19th century. Delamere 5pc place setting, $69.90; Horchow).

There may be plenty of holiday dinner plates to choose from - new and old - in every price range; but to me nothing says Thanksgiving like Spode's Wildlife dinnerware. It's a classic and one of their most recognized patterns. It has a vintage and antique feel. For a more paired down look mix and match it with Delamere.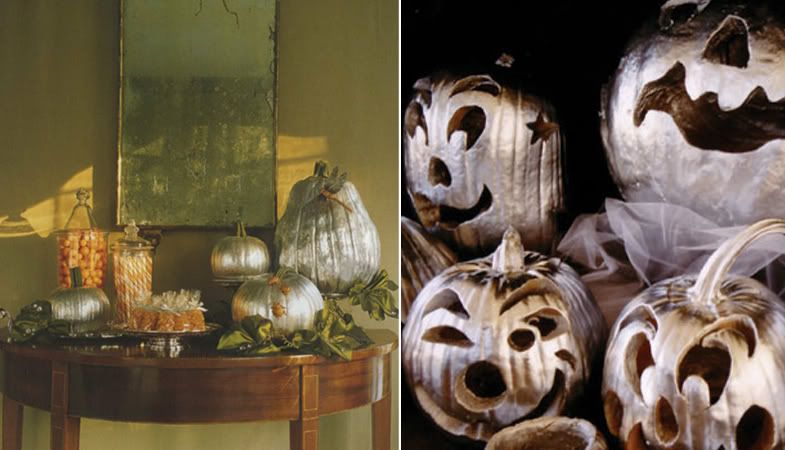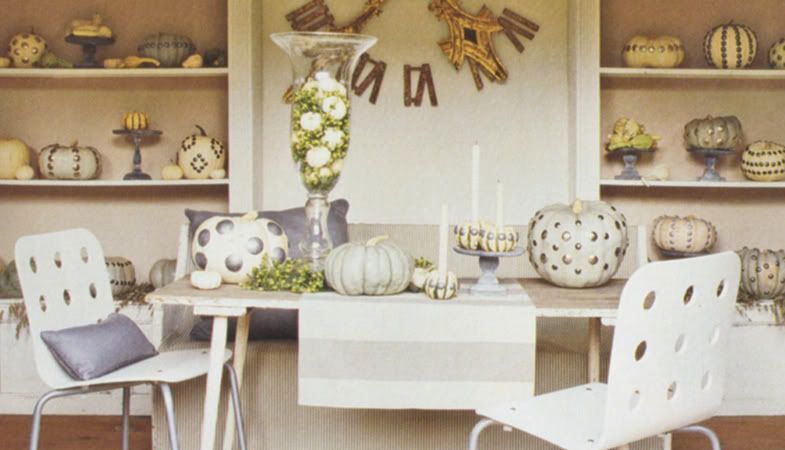 (shown above: Image for Martha Stewart, Image from Carolyn Roehm, Image from
Cottage Home).

To put more autumn on your table, changing even the simple things can give your table setting a lift. Try spray painting your pumpkins silver as shown in the pictures above. Just look through your house for things that might be in fall colors or metallics and group them together.