(above: button cake, The Knot)

Antique, mother-of pearl, plastic or metal--gorgeous buttons are just crying
out to be used to make unique, one of a kind items for your wedding.



(above: serendipity06, Etsy, button invitation)

Buttons pull us together day after day, fastening our skirts, closing our jackets,
but often goes unnoticed until we discover one missing. I credit Vane from
Brooklyn Bride who actually got me thinking about the button and it's many
uses when she posted ABC Buttons.



(above: images from Charles and Marie and Cake Milk Paperie)

In doing research, I learned that years ago people clipped buttons off worn
clothing to pass down as valuables. Carefully preserved in tins or boxes for reuse.
I think a family heirloom like this would be wonderful incorporated in a wedding
bouquet.



(above: Wedding bouquet and centerpiece, both images from The Knot)

Buttons can be found at flea markets and antiques stores. I'm not sure where
Brooke found the beautiful coasters she bought me for Christmas last year but
aren't they fantastic! The coasters and phone album would make great
Bridesmaid gifts.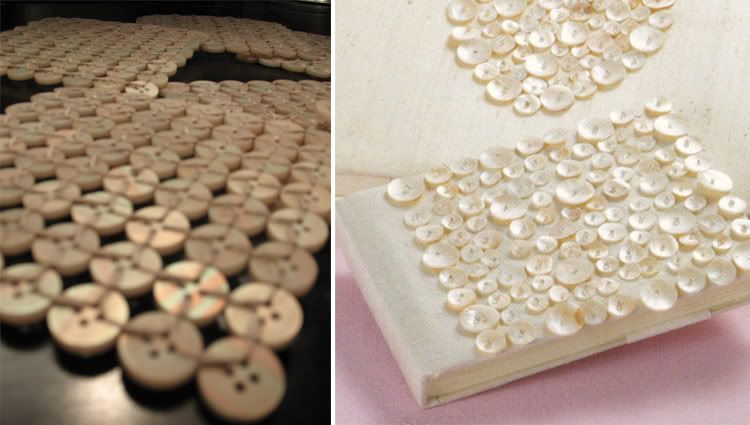 (above: button coasters, birthday gift from Brooke; mother of pearl photo album,
$19.99, White Aisle)

For the creative Bride, buttons can offer a fantastic source of inspiration for a
wide range of do-it-yourself creative crafts. You can take buttons out of their
familiar context to showcase them on invitations, cards, favors and table linens.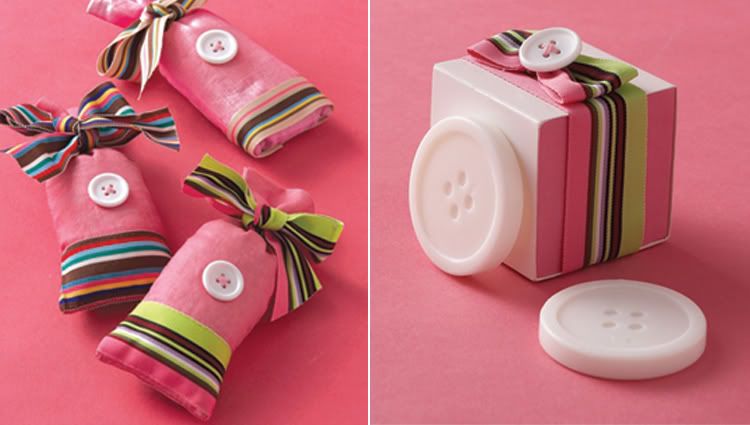 (above: button sachel and button soap, White Aisle)

Buttons make charming closures: Punch holes in the box's lid for the button, slip
wire through, and fasten on the underside; tie a ribbon to the button's base, loop
it around the box, and wrap to secure.



(above: images from Martha Stewart)

With ideas like these, you'll never take another button for granted, even when they
come in the form of jewelry or a picture frame.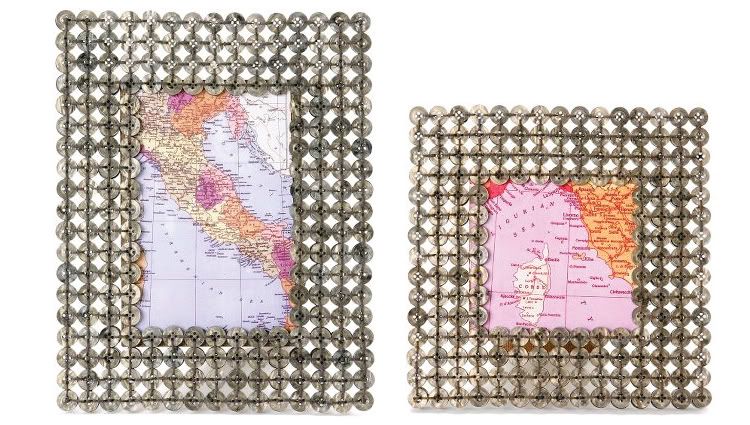 (above: button bracelet, $198.00, Anthropologie; Links of London classic
button cuff links, $195.00, Saks Fifth Ave; square buttoned up frame, $14.95; buttoned-up frame, $19.95; both available at Anthropologie)