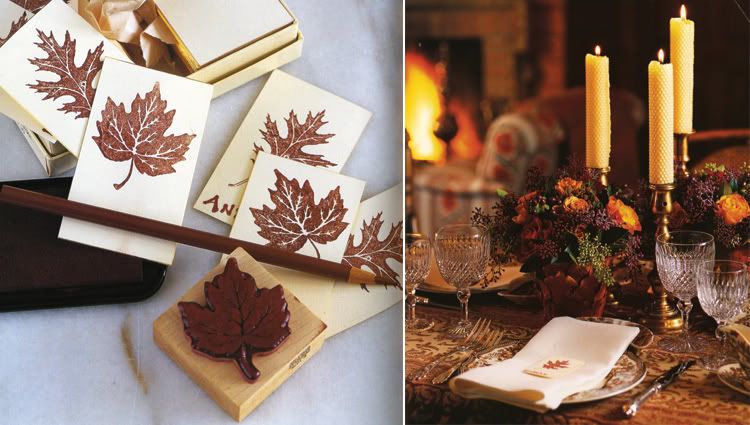 We are approaching the time of the year when most people are looking
more into the interior of their homes for beauty rather than outside in
the yards and gardens. Even so, many of us are finding ways to bring some
of nature indoors by decorating with fall leaves. Fashioning them into table
centerpieces, wreaths, candle rings and napkin holders are just some of
their uses. (above: Carolyn Roehm, Presentations)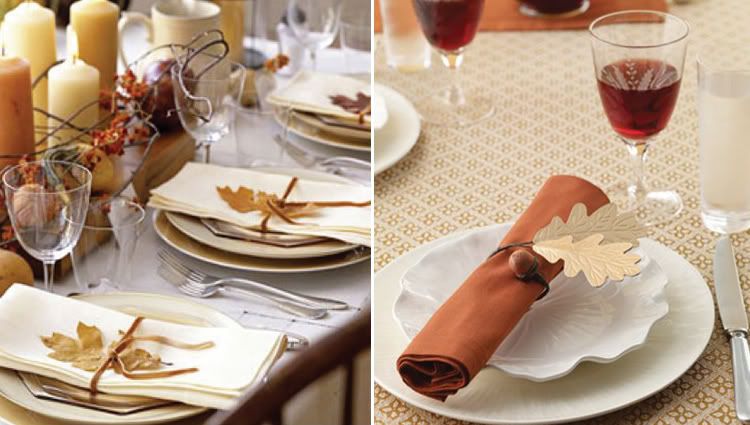 One of the best things about fall is the color palette. I love the warm hues
and earth tones that reflect the changing leaves, perfect for a Fall wedding!
Decorating a wedding in autumn is almost effortless because nature does
most of the work. A variety of dried leaves all in deep autumnal hues, need only
minimal arranging for a lovely effect. (above: Better Homes and Gardens, Acorn
leaf napkin ring kit, $9.99, Martha Stewart crafts)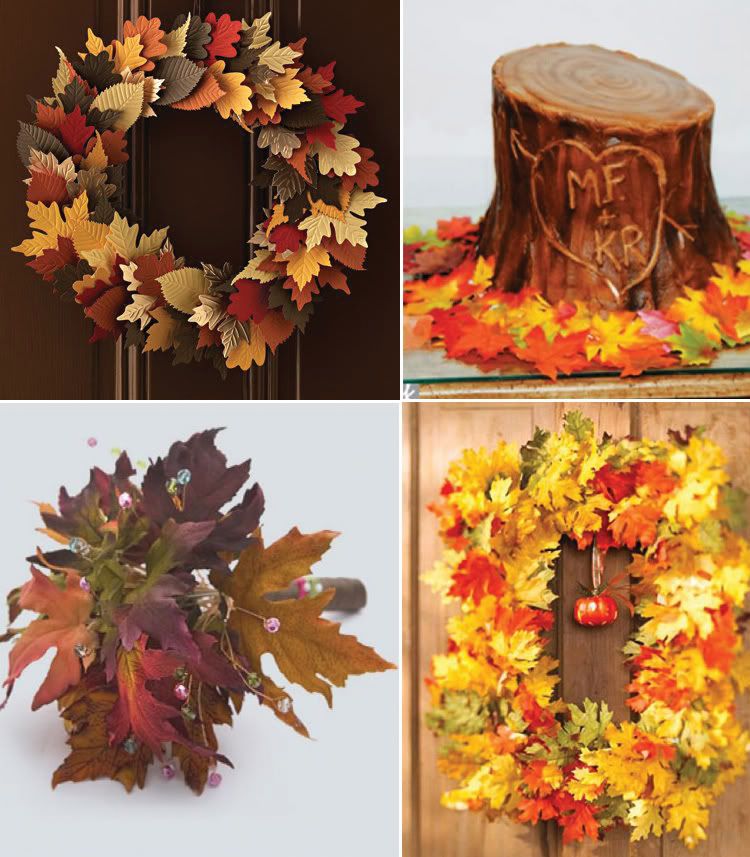 Did you know that Fall is the second biggest wedding season after summer?
If you're planning a Fall wedding, incorporate leaves into your 'special day 'with
some of these festive, leafy decorations. (above: Autumn wreath kit, $24.99,
Martha Stewart crafts; Grooms cake, The Knot; Fall bouquet, $80.00, Kate Parker
Weddings via handcrafted wedding; Autumn leaf wreath, Better Homes and Gardens).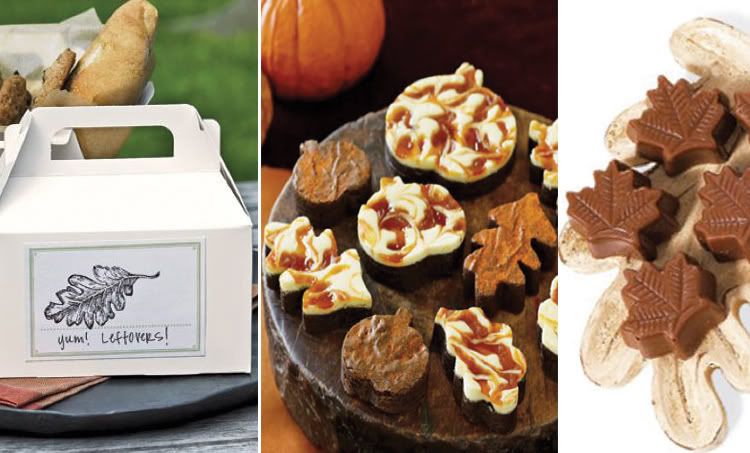 According to Martha Stewart, if you are going to be using fallen leaves, gather
them about two weeks in advance. Lay them between sheets of paper towels,
then let them dry between the pages of a phone book. Replace towels every
few days. When real leaves just won't do, you can still use the motif on your
favor's box and wouldn't your guest be delighted to find inside leaf shaped
brownies or chocolate. (above: Country Living magazine and Brides)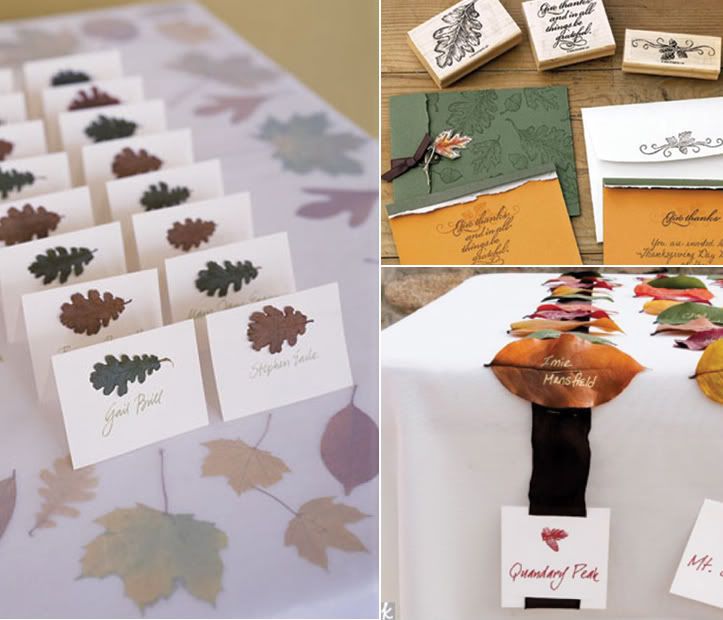 A table with pressed leaves is perfect for your escort cards. The leaf motif can
embellish the cards or you can use them as the card themselves. In an entry-hall table
or as a centerpiece, complete the look with nuts and more dried leaves arranged
in a glass bowl.




Wreaths and garlands: Don't limit wreath-making to Christmastime; there
are abundant materials available in the fall for creating lovely decorations
that will last through the season. A colorful collection of preserved leaves
are striking when densely clustered on a wire wreath form.




Start collecting those leaves, make way for fall and winter. Full steam ahead.
If collecting leaves is not for you, above are some great leaf accent plates that
you could easily mix and match with your current table decor.
(above: leaf plates, Roost; decorative leaf dishes, $58.00, Gump's; Harvest
leaf platter, $44.00, Pottery Barn; large foil leaf plate, $4.99, Target).