One of the reasons I started Toast and Tables is because I wanted to
celebrate the spirit and style of different tablesettings. If nothing else,
I hope this blog inspires you to create a table that reflects who you are.
I think that when friends and family gather around the table it becomes
more than a piece of furniture, it becomes a personal place invested with
our emotions, our memories and our dreams. As the holidays are a time
to take pleasure in families gathering together why not add to the enjoyment
by making the table a feast for the eyes with handmade items.





I love handmade tableware; I think it adds a great deal of creativity and
individuality to the table. Handmade tableware is finding great success
because more and more consumers want to depart from mass-produced
pieces. Every Friday I would like to spotlight, "Women Who Make Beautiful
Tableware": a weekly feature on some of the most creative women in home décor.

If you have a favorite Potter or know of an extraordinary Ceramist, please
email me, I would love to feature their work. Today, I bring you the work
of Amanda Ryznar and Jessica Rust:


AMANDA RYZNAR




Amanda Ryznar is the craftsman behind YogaGoat Pottery - - -
the name was derived from a doddle she did in a notebook of a
goat while doing yoga. After earning her Bachelor of Fine Arts,
Magna cum Laude in 2000 from Slippery Rock University she worked
for 2 production potteries in Vermont.

YogaGoat Pottery, which Amanda started in 2005, makes handmade
porcelain tableware inspired by nature and patterns on wallpapers
and fabrics. Amanda says, "I love being the person who made
someone's very favorite mug, or the vase they will enjoy even
without flowers. Bright colors on pure white porcelain are where
I have found my voice in clay".

I am extremely taken with the personalized wedding or anniversary
bowl. You can order this bowl with your name, dates and decoration
of your choice to commemorate your special day. These bowls are great
and I'm thinking of ordering one for Chip and I. Check out her Etsy
shop for more information about the bowl and her other fabulous pieces.

JESSICA RUST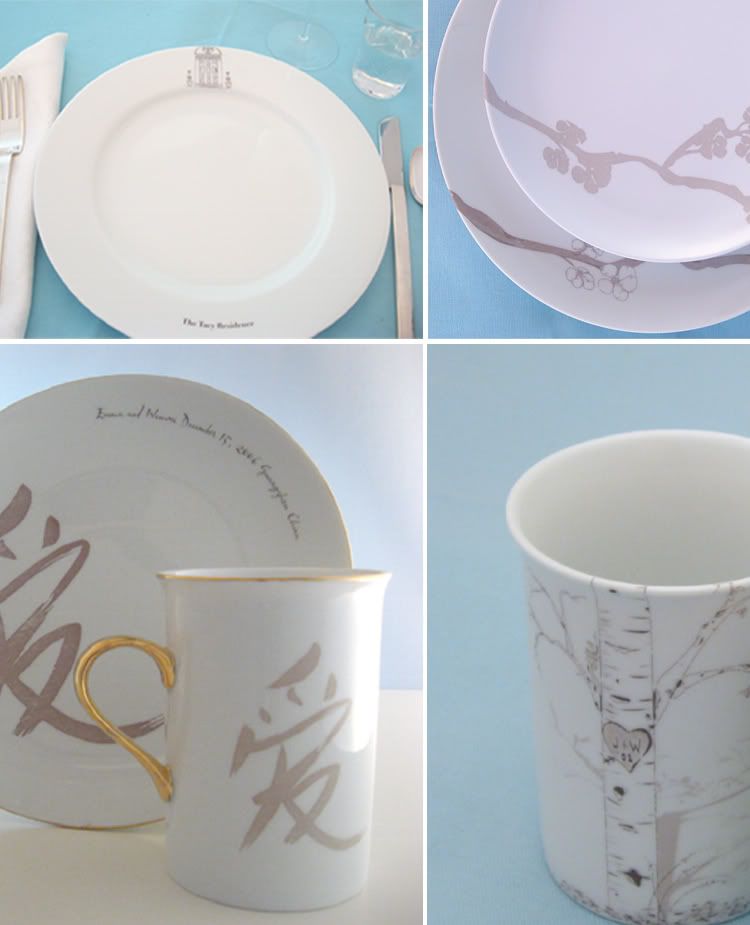 Jessica Rust, needs no introduction, she has captured the hearts of many
with her tableware designs that commemorate weddings, anniversaries and
other events that need celebrating. Abby Jean over at Style Me Pretty is
currently sponsoring a give-a-way of one of her Limited Edition bowls.
Act Fast! Go over to Style Me Pretty now and participate in this fabulous
give-a-way.

When you have a piece of handmade pottery in your home, you have a connection
with whoever made it. That human connection is important. When you choose
good crafted work for your home, something that's done well, you have a
piece that you can see yourself passing on. Join me every Friday as we
celebrate "Women Who Make Beautiful Tableware".