Anna, here's to you - - - "It is not the years in our life, but the life in your
years that count!" Happy Birthday.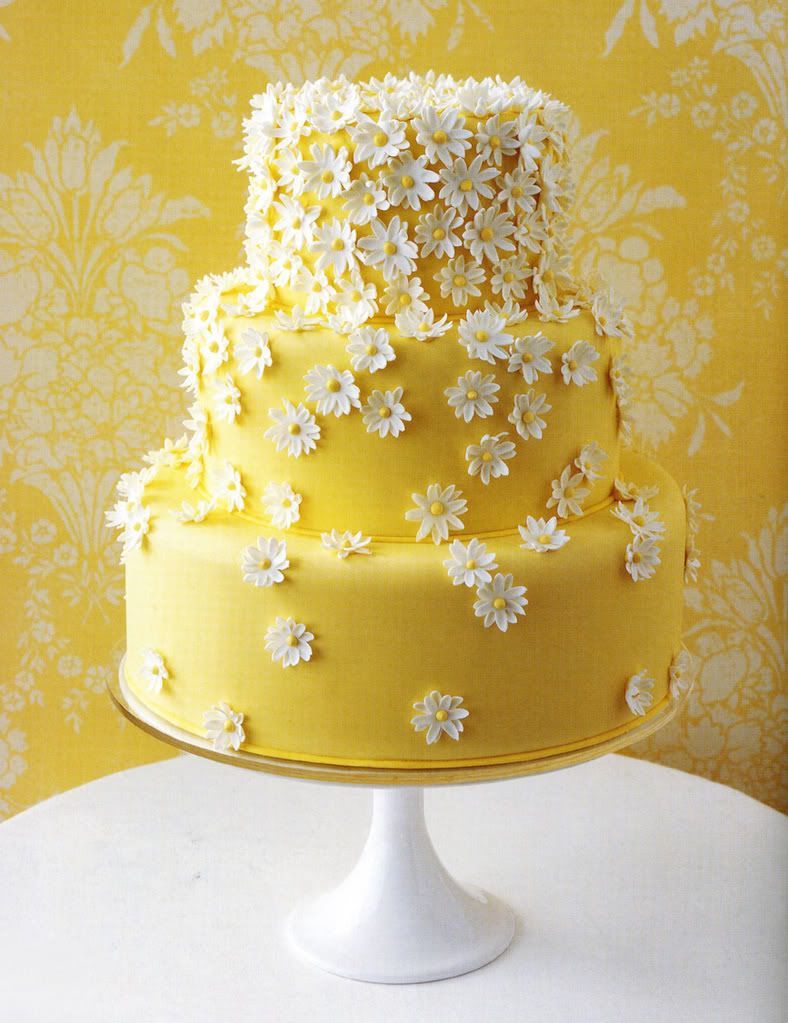 (above: Daisy Cake, Martha Stewart)

Tell me where does this woman find the time and energy?!?!? She's an interior
designer, she owns a shop in Brisbane Australia called Black & Spiro, she's the
blog author of Absolutely Beautiful Things (one of my favs), this week she's guest
blogging over at Design Sponge and last week she threw herself one swanky
birthday party! *whew*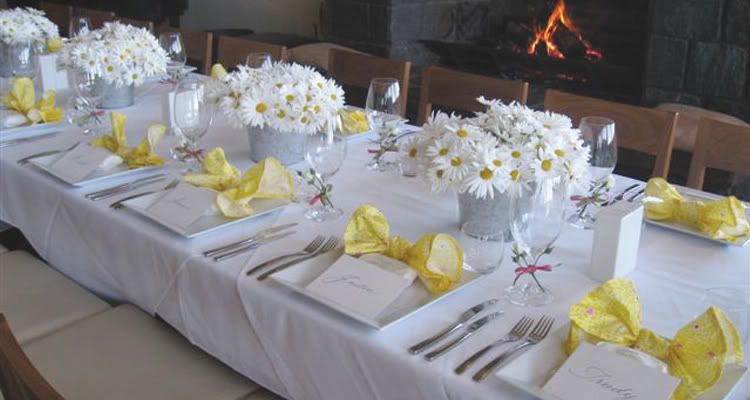 When I saw the pictures from Anna's 30th birthday party posted on her blog, I
emailed her and asked if she would share with me her inspiration. She happily
responded and I'm so excited to pass along the inside scoop. Thanks Anna for
your insight! Everything looked "Absolutely Beautiful".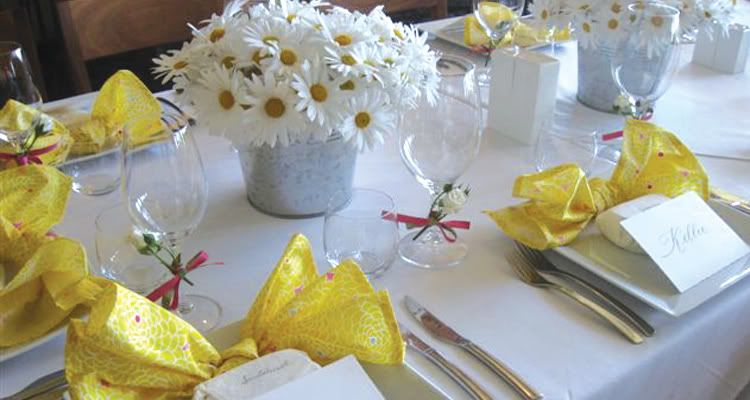 (above: Anna decorated the table in pink, yellow and white with tin buckets filled
with daisies placed down the centre of the table).

1. What was your inspiration? Are daises your favorite flower? Being that Peppers Spicers
Peak Lodge is out in the country I felt that daisies in tin buckets suited this look and I
just wanted it to be very simple. Usually I do lots of different types of flowers down the
centre of the table but this time as I said I just wanted it so very simple.

2. I love what you did to the napkin, is that a certain type of knot? No just simply knotted and
played with a bit to make them sit perfectly. I have to attribute this style of napkin tying to
my mother as this was her idea a while ago and I just love it as I am a huge fan of bows!!

3. Oh! the pink ribbon on the wine glasses were the perfect touch! Did you do that to tie
into the napkin? If you look really closely I tied a small rose onto each wine class with
the pink ribbon and yes I used the pink ribbon to tie in the pink on the napkin.

4. I love that you chose square plates. Did you have a choice between square and round?
Square plates were the only option so I can't be credited for that but I agree that they
looked really great!!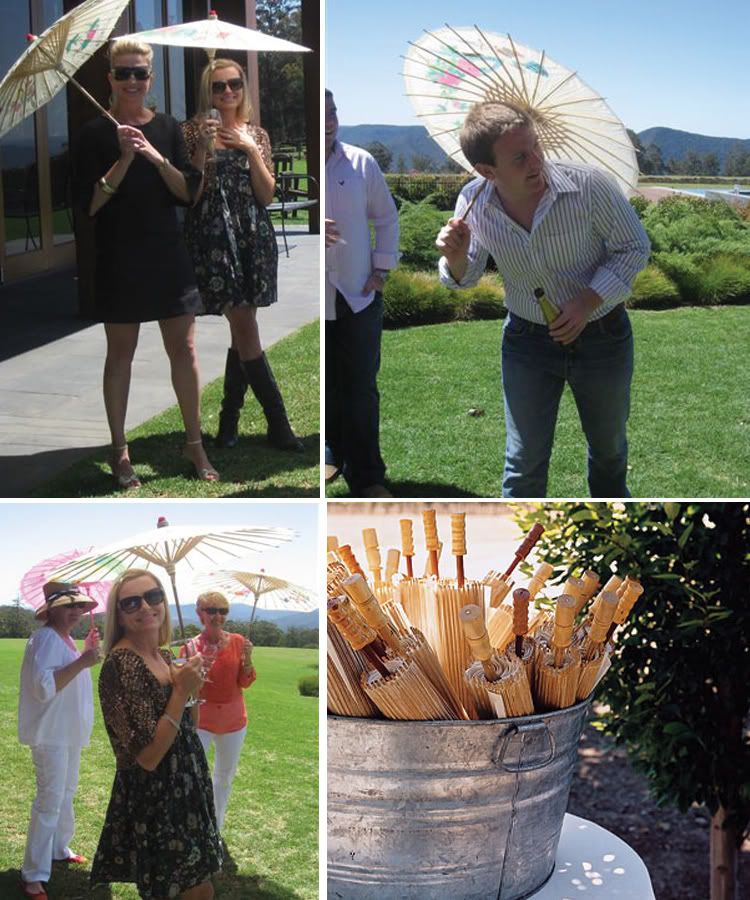 (above: Anna had a special birthday lunch on Saturday beginning with drinks on
the lawn. Each person received a hand-painted parasol to use outside for the
drinks and then a sit down lunch inside in front of the fireplace).

5. What were your place cards leaning against? They were leaning against a soap wrapped
in paper with handwriting saying what sort of soap it was. This was just a small gift to
each of my guests from me.

6. Lastly, did you find conversation difficult with a long table? Oh no definitely not! It was
really fantastic – the conversation flowed really well and people just got up and moved
around a bit which I loved! I love long tables. I'm not a fan of round tables.


I was so inspired by Anna's yellow and pink color scheme that
I put together a mood board of my own.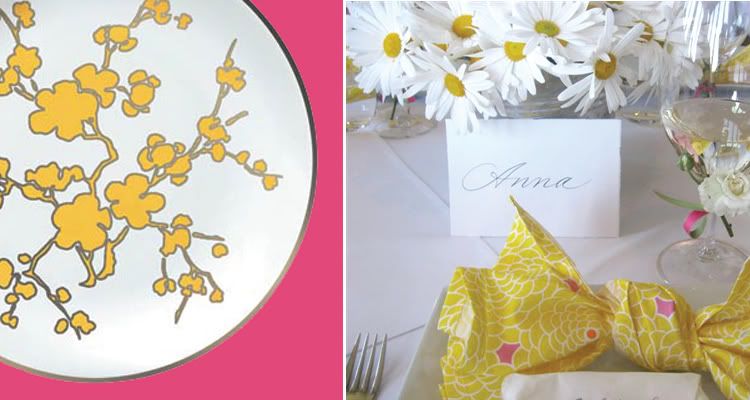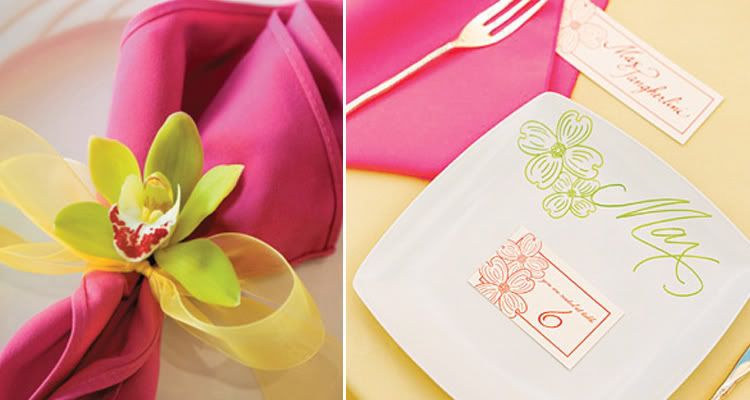 (clockwise: Ombrages dessert plate, Raynaud, $61.00, DeVine Corporation,
Anna's place setting, images from Brides and The Knot).


Tabletop recommendation for the bride who loves the yellow and pink theme.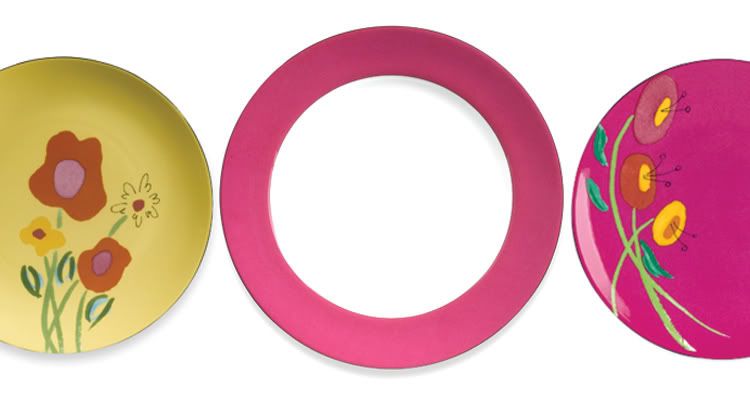 (above: Rutherford Circle Pink dinnerware, floral accent plate, Kate Spade
collection available at Bed, Bath and Beyond).

More pink and yellow... Mackenzie over at Something Old, Something New
posted these beauties by who else but J.Crew!




Mackenzie says, "Shoes! Shoes always cheer me up. Especially pink or yellow
satin ones, worn under beautiful white wedding gowns. Even better because
they're under $200.00."

I couldn't agree more these satin Mary Janes are fabulous (with or without the
wedding dress).