This month, pink is a major story, it is being used by many beauty, fashion and houseware brands to show their support of breast cancer awareness. This past week I have posted a few of these items because cancer is something that touches me personally. Many in my family have been diagnosed with this disease and my great-grand mother passed away from breast cancer; therefore I am a strong supporter of research and awareness raising.



(above: soft pink metro band 32pc dinnerware, $125.00, Amazon; Juliska 20pc dinnerware, $532.00, Horchow)

Long before the color pink was synonymous with breast cancer awareness, pink was associated with flamingos, pigs and elephants. It even harkens to the personal downside of the tough economy (pink slip) and a pop star (Pink) not to mention prom dresses and carnations.



(above: Vera Wang Pink Duchesse 5pc place setting, $139.00, Bloomingdale's; Dessert plate, $14.00,Anthropologie).

The color pink conjures up many things. So the next time you're setting your table, THINK PINK. I love pink on the table and I think part of the color's strength seems to lie in its malleability. While it's often perceived as soft and girlie, it can take on a sexy slant when paired with black. Pink also mixes well with basics such as gray, white and khaki, making it is an extremely salable color. If you haven't put some pink in your life, now is the time to put it on the table (top).



(above: Large Pink Gurgling Cod, $95.00, Sherve Crump and Low; Pink Pitcher, Vietri; Kosta Boda glass vase $149.00, Bed, Bath, Beyond)

I suggest bringing a few subtle touches of pink into your table, such as a dessert plate, stemware or a conversational piece like the pink Gurgling Cod pitcher. Use your white plates as a foundation, then layer on pink bowls, teacups and saucers or chargers.



(above: William Yeoward pink barware; Pink tea set, from $35.90, Horchow; Primrose handled rectangular tray $79.00, Mariposa)

If you're really daring, you can use textiles in various shades of pink for tablecloths, napkins and placemats. Combine those shades with your centerpiece - - - flowers, vase and other accessories in pink.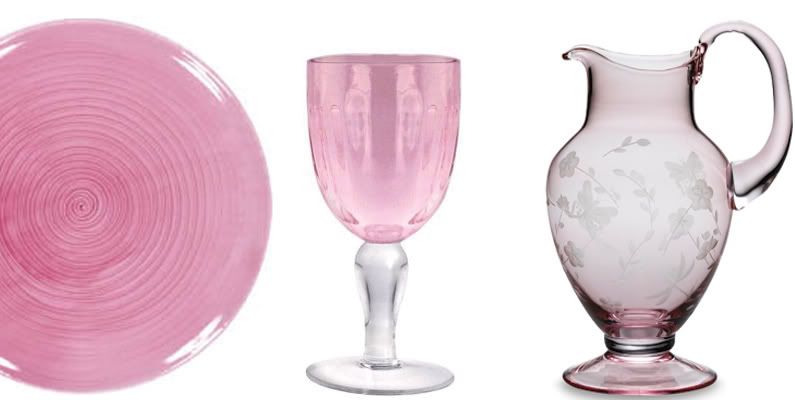 (above: Cast Iron Teapot pink, $49.99, Distinctive Decor; Pink and White place mats and napkins, $40.00, set of 4, Horchow; Pink large round platter, Vietri; Kassie goblets, set of 6, $39.99, Target; Butterfly Meadow pitcher, $39.99, Lenox)

Thanks to everyone for "posting pink" this week; but we must take it a step further. Let the pink ribbons serve as a serious call to action for us to be better partners with science. One by one, we must each take more control of our own health. Breast cancer is a treatable disease, and we can make a difference in the statistics by encouraging every woman we know and love to follow the early detection procedures and to aggressively follow-up. It's time to get serious about pink.