Their bowls are hand-painted, hand-made and their use of color is uninhibited.
As seen on Apartment Therapy, Hostess with the Mostess and many other
blogs, Ruth Hyndman and Leah Nobilette have bowled over their admires.
Their juxtapositions of color and material created by the dimensions of their
bowls will certainty bring a cheeriness to the table.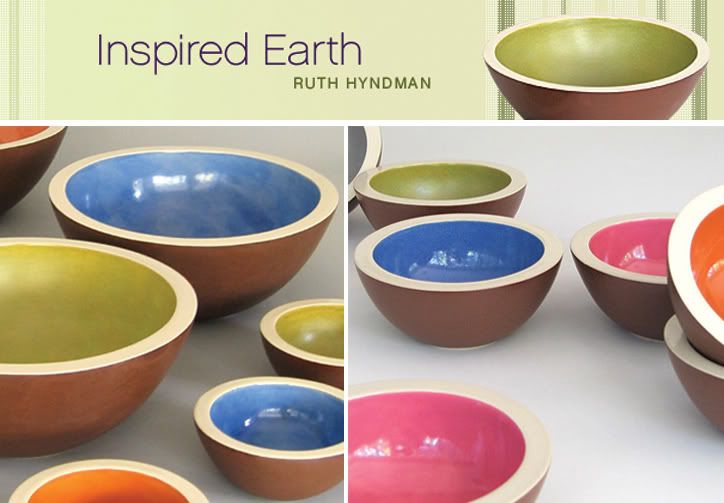 (above: Very Hefty bowls, 14", $220.00; Hefty bowls, 6.5", $58.00; Iluren)

Combining thickness and weight, usually reserved for dark objects with the
brightest and happiest of color reminds me that even the brawniest of home
decor can bring a smile to one's face.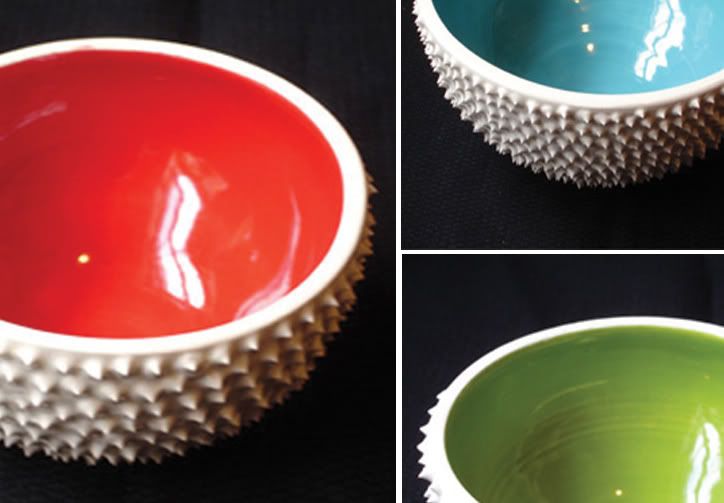 (above: Leah Nobilette handmade spike bowls, $65.00, Relish)

Although the bowls designed by Leah Nobilette are functional and food-safe,
they are more like sculptures. These beautifully designed ceramic bowls have
a spikey exterior, extruded through a pastry bag! Brilliant! Relish was a
early supporter of her bowls and you can now order them online; however you
should act fast before they're all gone. According to Ultra, a great design
site, Oprah once bought out the entire collection for O magazine and
to use for the set of her television show!

The reason why I chose to spotlight "Women Who Make Beautiful Tableware"
every Friday is because I believe that handmade pottery adds a great deal of
creativity and individuality to the table. There are a lot of handmade looking
items on the market now that are manufactured to look like they've been
crafted by hand; but they are not. I hope these post inspire you to buy
handmade; because when you do, you have a connection with whoever
made it. We live in such a technological world, isn't it just nice sometimes
to make a human connection.