Silver bells, partridges in a pear tree and Rudolph the red-nose reindeer are
more than just images from popular holiday songs. They are also among the
themes we use for decorating our homes at the holidays. Used year after year,
I think these tried-and-true themes sometimes seem stale. If you're looking to
infuse a fresh look into your holiday décor, let the line, "visions of sugar plums
danced in their heads," from "Twas the Night Before Christmas inspire you
to inject purple into your holiday preparations.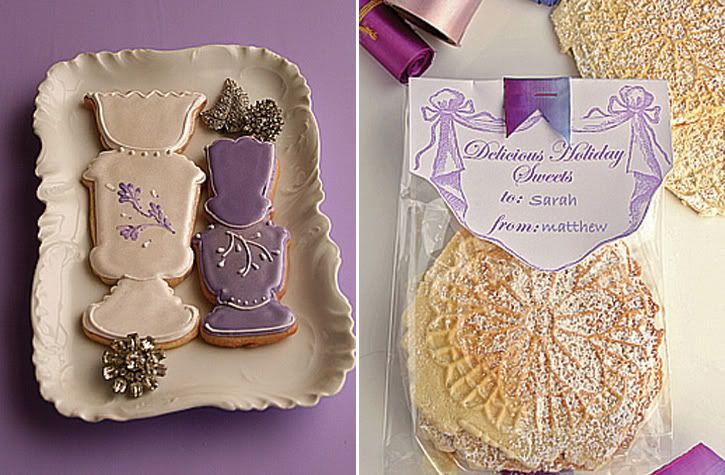 Purple? Of course. Purple was prominent on the fall runways, from Anna Sui
to Vera Wang. The color has leapt off the catwalks and is now everywhere - - -
in bedding, window treatment and tabletop accessories so why not Christmas
décor. Matthew Mead demonstrates on his web site some phenomenal ways to use
purple, from gift wrapping to creating gift tags (the gift tag shown above can be
downloaded from his site). Make sure to visit and check out the many craft projects.




From the rich purple associated with royalty to the distinctive hue of the
orchid plant, from sumptuous plum to delicate lavender, purple can boost
creativity and feed the imagination. It is a perfect way to add glamour and
grace to your holiday tablesetting.




Perfect partners for purple need choosing with care:

Purple with gold is traditional, ecclesiastical and royal.
Purple with bronze and silver metallics is eminently modern.
Purple glassware looks great, especially by candlelight.
Purple is a fashion shade, so use it for easily changed napkins, tablecloths,
candle votives and Christmas ornaments.




Red and green will always be needed, but if you want to be more daring this
holiday, let the vision of sugar plums inspire you!