Isabelle De Borchgrave is a world-renowned Belgian artist recognized for her elegant
and classic artistry, and for her intricate paper-designed creations. De Borchrave's
creations can be seen in exhibits and fine hotels throughout Europe.

Isabelle De Borchgrave's new tableware collections at Gien and Target are bursting
on the scene with spring and summer goodness. These floral patterns may hint at
the traditional, but lean toward retro and modern designs, with bursts of bright tones
that will surely please your tabletop design palette.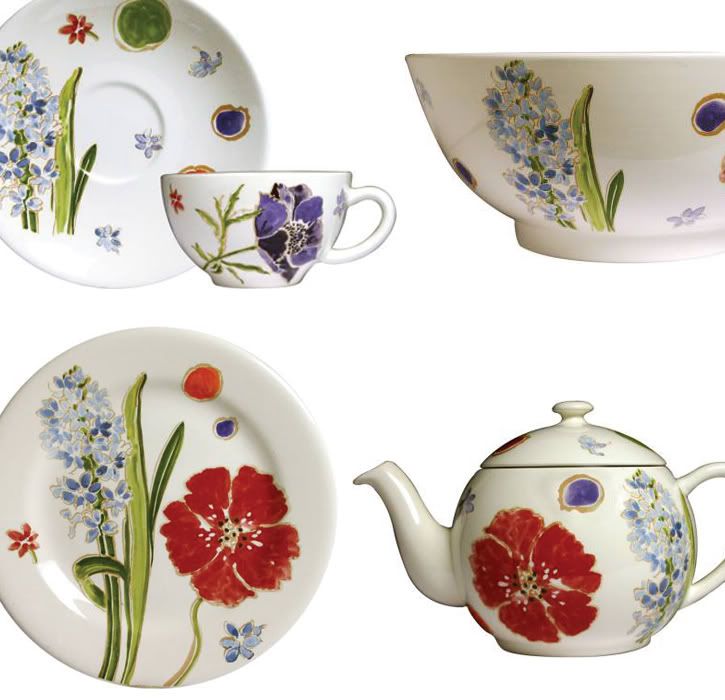 (above: Gien Jacinthe collection, available at TableIdeas)
Gien is the most prestigious maker of earthenware, "Faience," in France. The
history of Gien dinnerware dates back almost 200 years. Gien tableware takes
inspiration from many sources and this spring they will be taking inspiration from
Ms. De Borchgrave's love of art, entertaining and travel. The new collection, Jacinthe,
designed by Isabelle De Borchgrave has a garden inspired motif. Set your table
with warm colors and bouquets. This collection will blossom on your table like
a sunny summer day.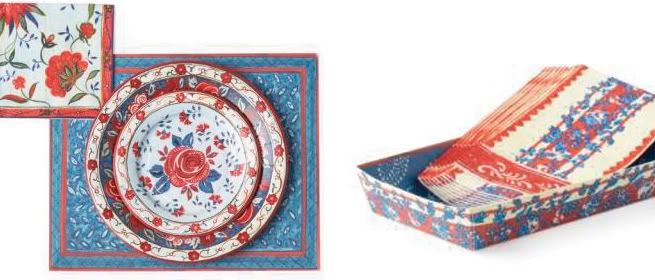 (above: Isabelle Party, Fiesta Collection, available at Target)
Isabelle De Borchgrave brings her hand-painted artistry and her love of celebrations
to Target in her beautiful collection, Isabelle Party. This spring, she continues to expand
her Isabelle Party collection of artful paper party décor with the Fiesta and Botanical
collections. Everything from paper plates and napkins to disposable chair covers
and tablecloths are sure to liven up any bash.



(above: Isabelle Party, Botanical collection, available at Target)
De Borchgrave, who began painting at age four, believes that entertaining is an art and
art is entertaining. She views every occasion as a blank canvas and feels that vibrant colors
and bright patterns are all that are needed to create a celebration like no other.
De Borchgrave's new collections can be summed up by her motto "Que la fête commence!"
"Let the party begin!"