As Valentine's Day approaches, hearts and the like show up on many retailer's shelves,
even in tabletop. This exuberant collection from Kosta Boda gets right to, well, the
heart of the matter: hand-painted Hearts plates, bowls, vases and glassware made
cheerful and loving with bold red, hand-painted hearts.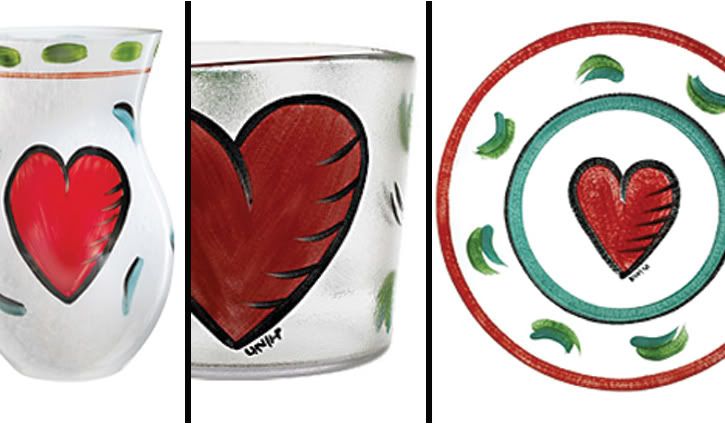 (l to r: hearts vase, $100.00; hearts ice bucket, $50.00; hearts plate, $75.00, Kosta Boda)

The Hearts collection was designed by Ulrica Hydman-Vallien. She is foremost a
designer in glass, but one look at this series reveals her passion for painting. In this
collection, her signature style shines through - - - saturated colors painted resolutely
and boldly onto the surface of the glass as though it were a three-dimensional canvas.
"Glass with personality"




(l to r: hearts flute, $100.00; hearts bowl small, $75.00; hearts platter, $100.00; Kosta Boda)

Now through Valentine's Day, order $150 of Hearts items and receive the small Hearts
bowl for only $25 (reg. $75). Just enter promotional code HEARTS08 during the
checkout process at Kosta Boda. Kosta Boda collections are wonderful gifts for
Valentine's Day, Mother's Day, bridal, anniversaries, birthdays, housewarmings, even
baby showers, and many other "hearts and flowers" occasions.