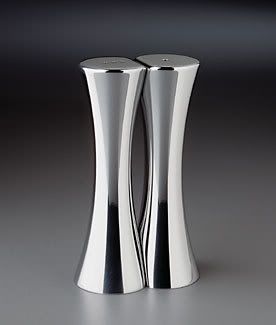 (above: Kissing salt & pepper, Karim Rashid, $79.00, Nambe)

As Valentine's Day approaches, here's a question for American couples. What are
the elements that can truly make or break a memorable kiss? A national wide
survey reveal that American couples said: the right atmosphere (29 percent surveyed)
and the element of surprise (24 percent surveyed) topped the list for the main
ingredient of a good kiss.



(above: Kissing candlesticks, Karim Rashid, $79.00, Nambe)

I think Nambe makes a great kiss as well! Their classy and classic Kissing salt
and pepper shakers can really leave a lasting impression. These smoochers are
great conversation-starters, especially if you mention they're in the permanent
collections of museums and have won all kinds of design awards.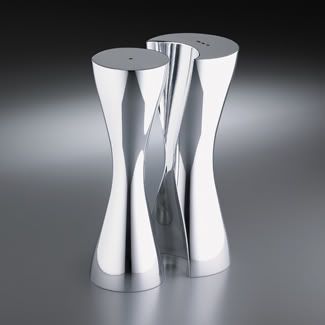 (above: Hug salt and pepper shakers, Karim Rasheed, $99.00, Nambe)

Add an extra element to your Valentine's greeting this year -- surprise that
special someone by sending their Valentine sealed with a hug and a kiss!