The hottest thing happening at wedding receptions isn't just on the dance floor - - - it's on
the table, the centerpieces, the place setting and even the linens. It's big, bold color.
Years ago brides used color to accent their white wedding day decor, but now they're using
color to cover every inch of the wedding. From brights to neutrals, these four pretty pairings
will liven up your table décor.

1. Lime + Cherry
Layer the dominant color - red was chosen for this table. The plates are by CB2, linens by
Sferra, flatware by Georg Jensen, Vivian goblets by Juliska and white reception chairs from
Party Rental Ltd.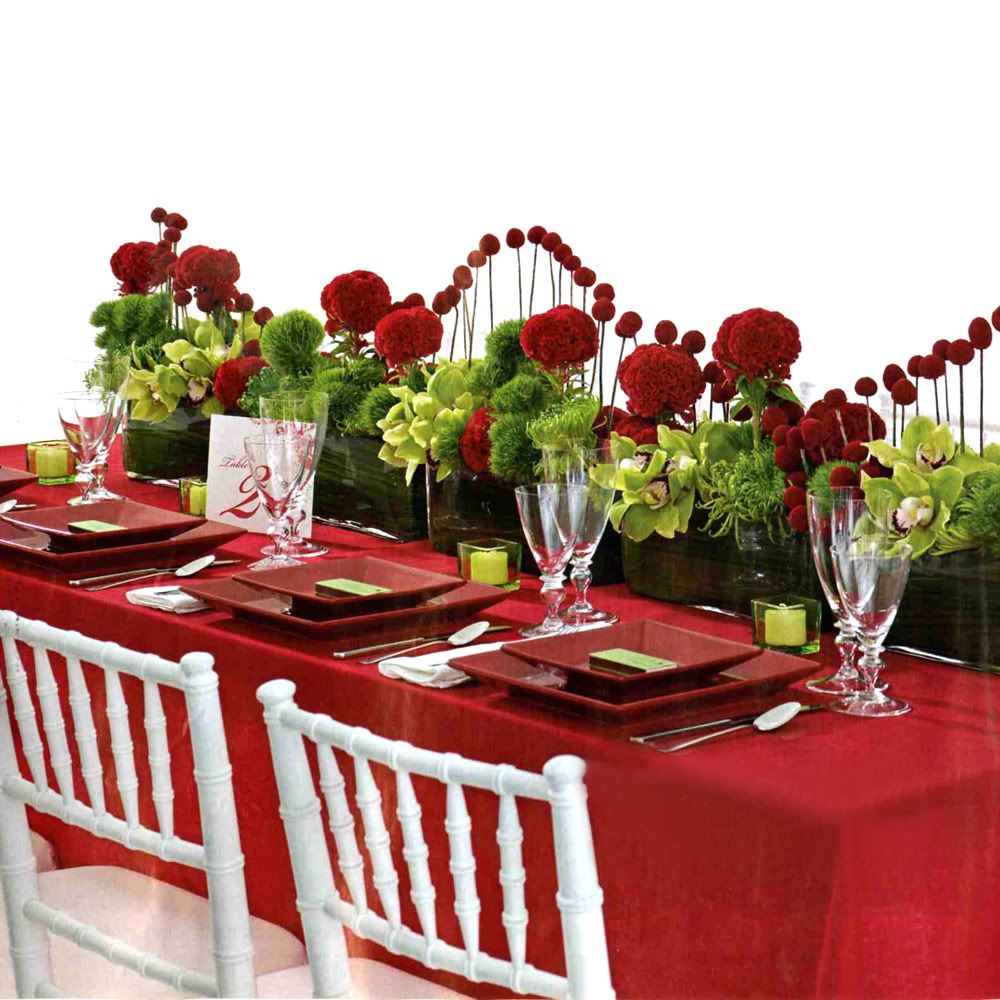 Become aware of color combinations that you like. To help you choose the exact hue for
your wedding details, visit a fabric store or neighborhood paint shop and collect swatches
or chips of colors you might want to use.

2. Raspberry + Aqua
Alternate the colors in your linens and place settings, and top off with a lush floral
arrangement. Plates by Royal Doulton, napkins by John Derian, flatware by Towle,
wineglasses by Kenzo and water goblets by Anthropologie.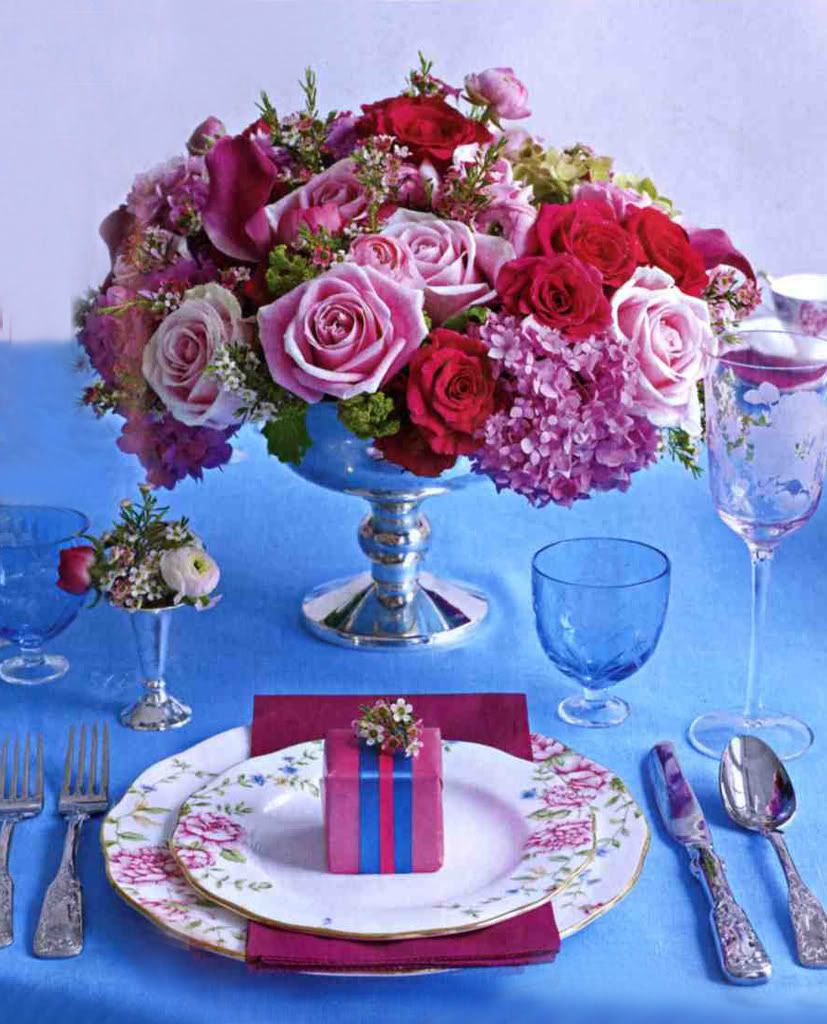 Where and how you use color really depends on the mood you are trying to create. The
best way to get started is to figure out what emotions you want your celebration to evoke.
A stylish eco-friendly fete?

3. White + Wood
Set an eco-friendly table. Handmade glass bottles, ABC Home; small wood bowls made
from sustainably forested acacia wood, Pacific Merchants Trading Co.; farm table and chairs,
place settings, glassware, and napkins rented (and reused) from Party Rental Ltd.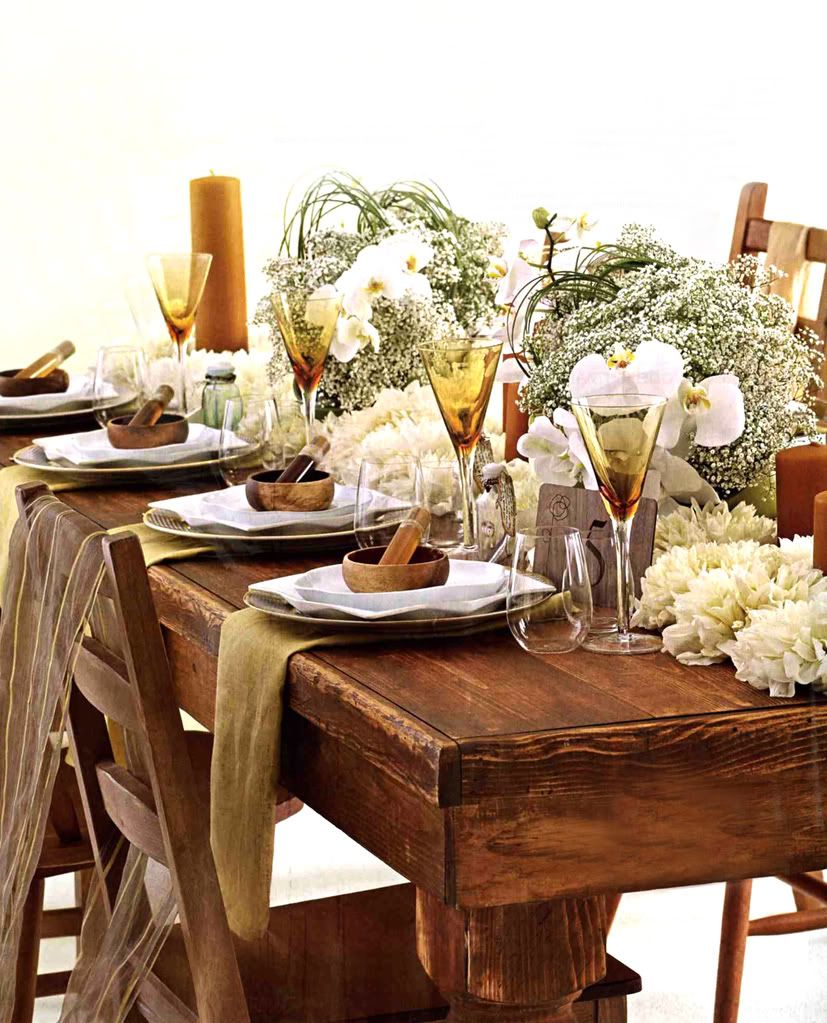 No matter what color you've chosen, chances are you will be able to find flowers in that
shade -- but that, of course, does not mean the blooms will be available or affordable. If
your dream flowers aren't an option, use neutral white flowers with centerpiece containers
or other decor elements in your color.

4. Pistachio + Gold
Muted greens and metallics soften up a formal wedding. The centerpiece has a lush,
luxe feel. Vintage hobnail vase filled with safari roses, hydrangeas, yellow ranunculuses,
gloriosa lilies and narcissus. Place setting by Party Rental Ltd.




A well-executed theme can create a wedding to remember -- but a poorly thought-out one
may be even more unforgettable. Don't overdo it with theme or color. Yes, it should appear
to guests that you've thought of everything, and theme should be incorporated into all
elements from place card paper to dessert plates. But knowing when to say when is key.

Source: The Knot