For many, breakfast is hurried, heads-down sustenance supplemented with caffeine.
Hold the social interaction. For others, breakfast is a business function, the food an
afterthought to early morning deal-making. But for me, setting an elegant breakfast
table for my mom on Mother's Day is a splendid alternative to taking her out to dinner.
This elegant option provides a splendid opportunity, unhurried and uncrowded, for my
family to socialize and to show my mom how special she is.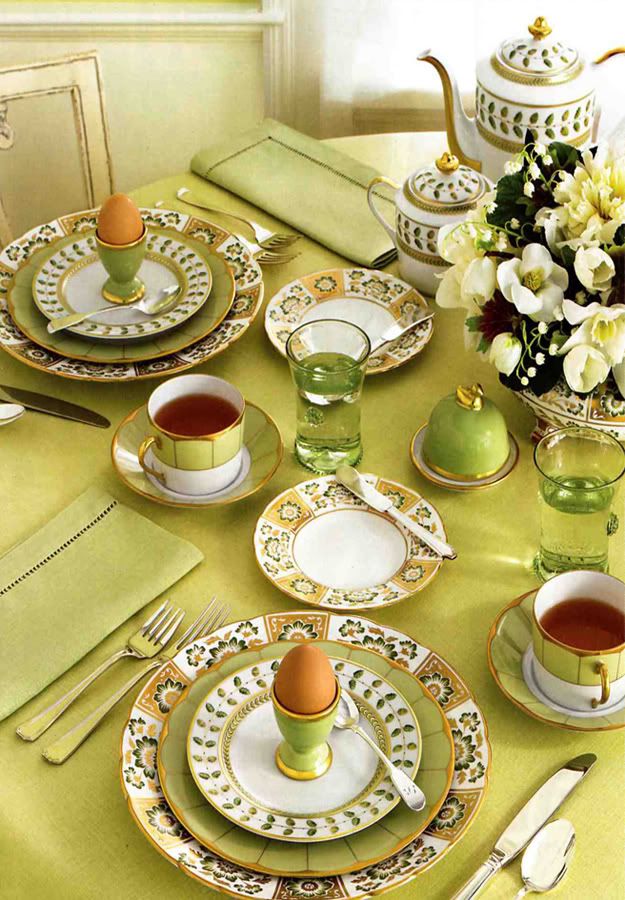 Spoiling mom at a beautifully laid table is a lovely way to begin Mother's Day. Whether
served in bed or at the table, making breakfast on Mother's Day is a great starter for
mom's special day.

Tablesetting: gold-edge eggcup and butter dish by Legle Limoges. "Constance" bread-and-butter plate
(below eggcup), sugar bowl, and coffeepot by Bernardaud. "Illusion" teacup, saucer, and dessert plate
in endive by Haviland. "Derby Panel Green" bread-and-butter plate (with knife), dinner plate, and vegetable
dish (with flowers) by Royal Crown Derby. "Olivia" tumbler by Juliska. "Fairfax" silverware by Gorham.
Image, Martha Stewart magazine.