Now that the cherry blossoms have come and gone, the spring showers that bring May
flowers begin yet another cycle of plant life for the next season. However, for those like
myself, who lack green thumb expertise, those anticipated garden flowers may never bloom.
That's why I like no-brainer plants. A plant that doesn't need even the slightest attention is
ideal. Not that I mind lavishing attention on a couple of exotic beauties, but not everything
can require nursemaiding. Perhaps that's why I like succulents so much. The only way you
can kill them is with too much attention.




Have you noticed the current interest in succulents? Succulents, original to dry regions
of the world, have been used as houseplants in cooler climates for many years. Suddenly,
it seems as if succulents are a new discovery. Magazine articles and the increasing availability
of plants in local nurseries and garden centers has turned non-plant lovers into gardeners
eager to try growing them.




With fleshy leaves which store water, succulents can usually go many days between watering,
making them desirable plants for college dorm rooms, people who forget to water, and people
who are away from home for extended periods of time. Succulents also make excellent
favors for wedding guest. The endurance of the succulent plant is unequaled and will leave
guests with a lasting and easy-to-care-for reminder of your wedding -- all they need is good
drainage and sun.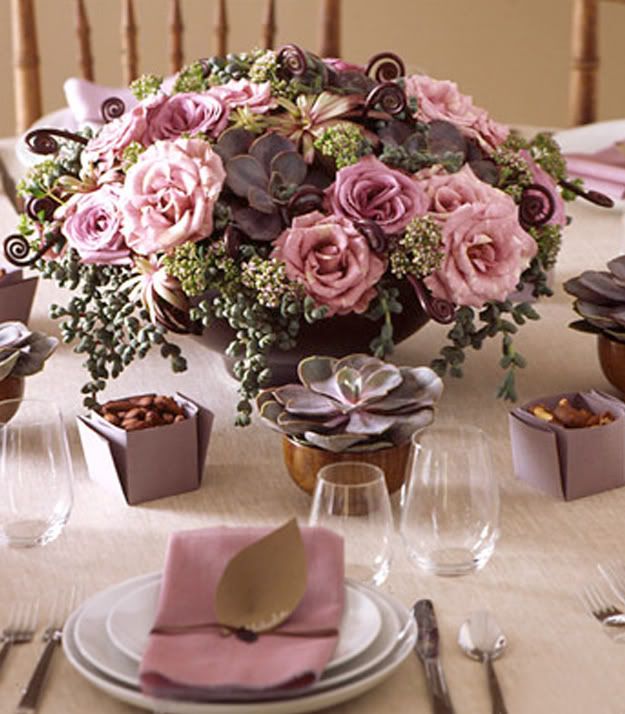 Another reason why I love succulents is that they look so good in groups. You can have
hours of fun arranging them, either in clusters of pots with similar or contrasting colours
and foliage, or in larger containers planted with several different varieties. Succulents can
be planted in shallow gardens, and the roots will spread out. They are fun plants to use in
tabletop centerpieces where you don't want height. Also, there are so many diverse types,
leaf forms and colors. It's like creating a tapestry. Being little can be advantageous and
beautiful!

Image sources: Martha Stewart, Brides and Country Living